Through decades of service to the Chartered Institute of Logistics and Transport (CILT) International, and the immense mentorship and coaching received from his Mentor, Cyril Bleadsdale, OBE, FCILT, Chief Teete OWUSU-NORTEY, FCILT has launched this award, Teete OWUSU-NORTEY Next Generation Africa Awards (NGAA) in memory of his mentor and friend.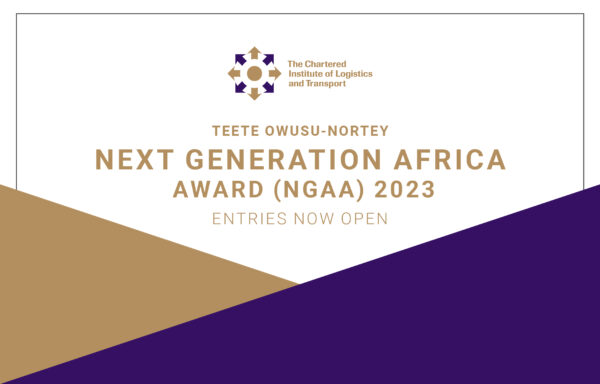 CILT International President-Elect, Chief Teete OWUSU-NORTEY, is seeking nominations for the NGAA 2023. The award will be presented during the 2023 African Forum Dinner in Kigali, Rwanda on Tuesday 25th April 2023.
The recipient of the award will receive the following:
Publicity of the award in all global newsletters for a year
Publicity of the award on all social media platforms for a year
Assigned to a local industry mentor for a year
Assigned to an international industry mentor for a year
The winner will receive a crystal plaque with a citation
Free admission to the 2023 and 2024 Africa Forum (exclusive of Air Fare and Accommodation)
The award will be made to a young person who can show they have made a significant contribution in their role working in logistics and/or transport.
The Criteria for Entry
• The person shall be 40 years and below at the year of entry
• The person shall be a member of CILT in good standing for the past 2 years. This will be confirmed by the recommendation letter from the Branch Secretariat indicating their membership status. (membership also includes affiliate members)
• Only two applications can be submitted from each territory or branch.
• Persons nominated in the previous year's award can enter again as long as they meet the above criteria and do not submit the same previous project. Award winners cannot apply for the next three years.
• Two awards will be made each year; one for North and West Africa region and one for the East and South Africa region.
Complete the form below to submit your entry
Applications Open – Thursday, 16th March 2023
Applications Close – Thursday, 30th March 2023
Winners Notified – Thursday, 6th April 2023
Winner Announced at the Award Ceremony -Tuesday 25th April 2023
For rules and submission requirements, please click here.
Applications are now closed.