CILT International Convention is one of the most important events in the transport and logistics calendar. The annual gathering of the wider CILT family, Convention offers members from around the world the chance to meet, share ideas and discuss the challenges and opportunities facing our Institute and our industry. This June saw over 200 CILT members and logistics professionals from our 35 international branches converge on Wroclaw, Poland for CILT Annual Convention 2018.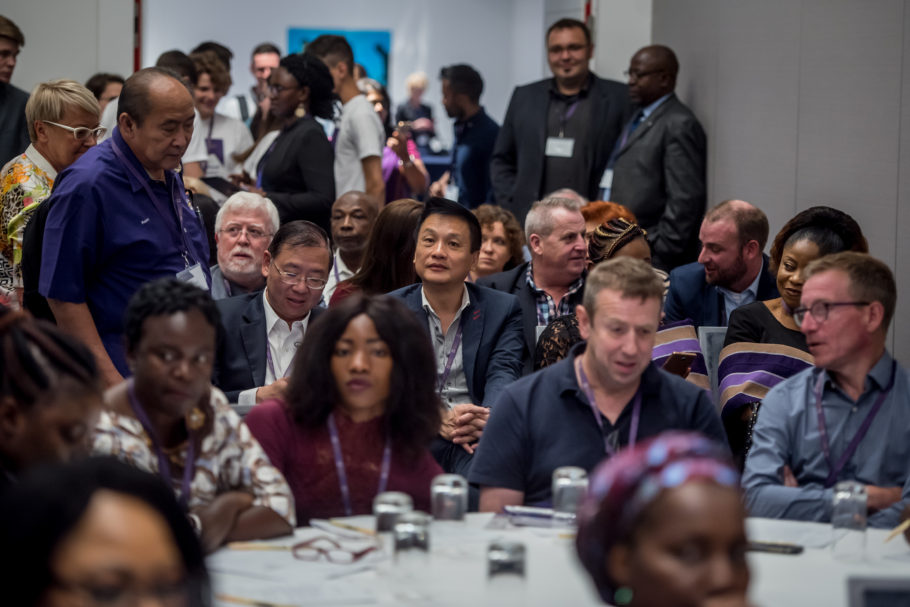 Organised under the twin themes of Linking Central and Eastern Europe to the World, and The Impact of the Electric Car Revolution, Convention explored the strengths and opportunities of logistics in the region, and the wider impact of Industry 4.0 technologies and paradigms on logistics, transport and the supply chain.
22 International speakers offered insight on an array of topics, ranging from the best applications of electric vehicle technology in rural Africa, to a macro analysis of the technologies and trends shaping Industry 4.0.
Day One of Convention was devoted to the Young Professionals (YPs) and Women in Logistics and Transport (WiLAT) conferences, with the morning YP session opened by International Convener Elliott Price. Usman Shuaibu, YP Regional Ambassador for Africa then took to the stage to present on the excellent work he and other YPs have been doing to grow the YP network in their region. YP Regional Ambassador for South Asia Biman Hettiarachchi then discussed key YP activities in South Asia, followed by Wayne Kavanagh, YP Regional Ambassador for Europe, who outlined his region's use of Simulcast to expand their network reach.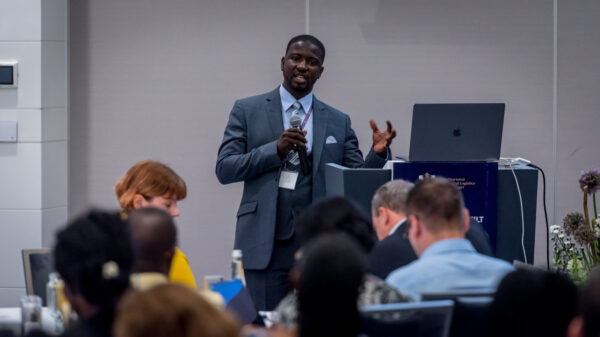 The morning session was rounded off by CILT International Professional Development Co-ordinator Jon Harris, who introduced Business on the Move, a fun educational game that excites and inspires 9 to 19-year-olds about business and the global supply chain, makes connections between the classroom and the realities of business, and helps young people develop the employability that they need in their future working lives.
After lunch, the WiLAT conference was opened by Global Convenor Aisha Ali Ibrahim. Dr Dorothy Chan, WiLAT Global Advisor then discussed diversity and sustainable careers for women in logistics and transport, whilst speeches from Dr Henryka Bochniarz, Professor Danuta Kisperska-Moroń and Barbara Kaśnikowska analysed the position of women working in supply chain, transport and logistics, and how our industry needs to adjust to the new economic realities of Industry 4.0.
Day Two saw the opening of International Convention proper, starting with goodwill messages from event host and head of CILT Poland Dr Marcin Pawęska, CILT International President Kevin Byrne, and CILT UK CEO Kevin Richardson. A generous welcome to the city was offered by Janina Woźna, Director of the Economic Development Office of Wroclaw City Council, followed by a final goodwill message from Mr François Lavergne, Vice-President in charge of Education, Research and International Relations of the Council of Moselle, France.
International President Kevin Byrne then returned to the podium to deliver his Presidential address. Quoting Pope John Paul II's description of Wroclaw as 'a city that unifies', he presented Dr Pawęska with a certificate inaugurating CILT Poland as an International Branch. Responding, Dr Pawęska said 'It is a great privilege and a pleasure to be part of a so great a family'.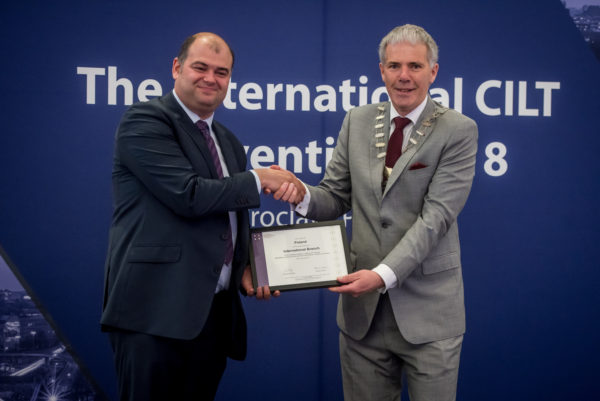 Attention then turned to Secretary General Keith Newton, who outlined the work of WiLAT's Abuja Bike Project, which is giving rural women in Africa access to transport. Keith, who visited the project whilst in Nigeria for Africa Forum 2018, described his experiences going to see the reality on the ground, and how he, International President Elect Dato' Radzak Malek and International Professional Development Co-ordinator Jon Harris spontaneously agreed to make a donation, before presenting a cheque to WiLAT Global Convenor Aisha Ali Ibrahim.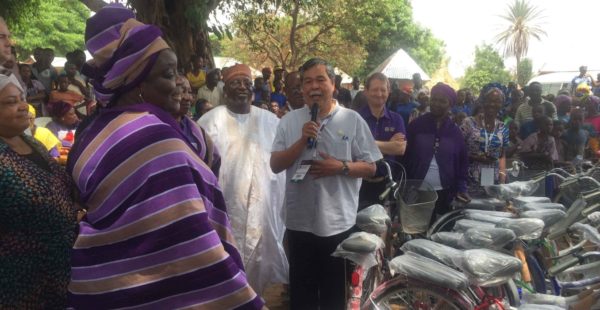 After the morning break, International Secretary General Keith Newton led a discussion on CILT strategy for 2019 and beyond, focusing on our upcoming centenary, and how to reconfigure the Institute for another century of success and prosperity. Keith was joined on stage by CILT UK CEO Kevin Richardson, IVP Francis Ehiguese, President of CILT Sri Lanka Gayani de Alwis, Chair of CILT Malaysia's YP Network Professor Dato' Ahmad Zaidi, and IVP Finbarr Cleary, who offered a range a views on how to move our Institute forward. Describing the session, Keith Newton said 'It's so important to have this time as a family to equip ourselves to meet the global challenges we face.'
The afternoon session was kicked off by supply chain veteran and President of CILT UK Robin Proctor. In his presentation, entitled How to put a Zebra on the Moon, Robin challenged delegates to dream big, and highlighted the role of the individual in bringing change, saying 'we need heroes to drive change in our organisations'.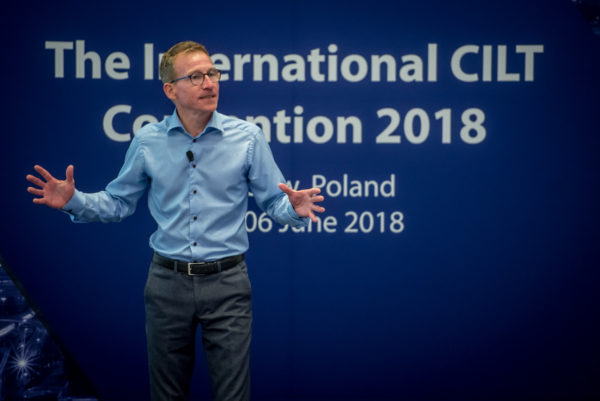 Then followed Professor Richard Wilding, Chairman of CILT UK, whose macro-analysis of Industry 4.0 provided expert insight into the forces driving it. He also echoed Robin Proctor's message of the importance of humans and human behaviour in modern industry, redefining the culture of an organisation as 'what people do in the absence of instruction when they are under a bit of pressure'.
Technological innovation then took centre stage as first Dr Kim Hassall, then Professor René de Koster, delivered presentations on the potential and impact of advanced machinery. Dr Hassall, Associate Professor at Melbourne University, outlined the history and creation of High Productivity Vehicles – often called road trains – in Australia, and asked conference to consider the benefits of introducing such vehicles to transport systems on other continents.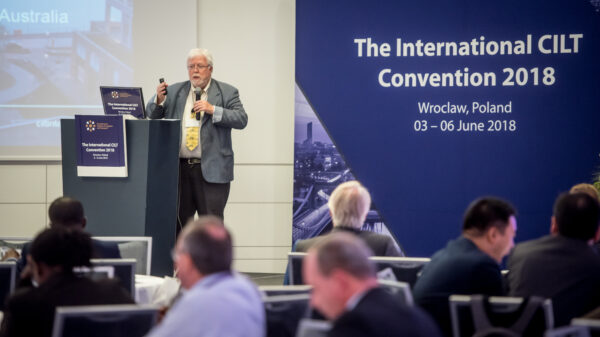 Professor de Koster then moved conference from the road to the warehouse, providing convention with expert analysis of the impact and implications of robotics and autonomous systems in the warehouse environment. 'There's a lot of opportunity here, the robots are really coming'.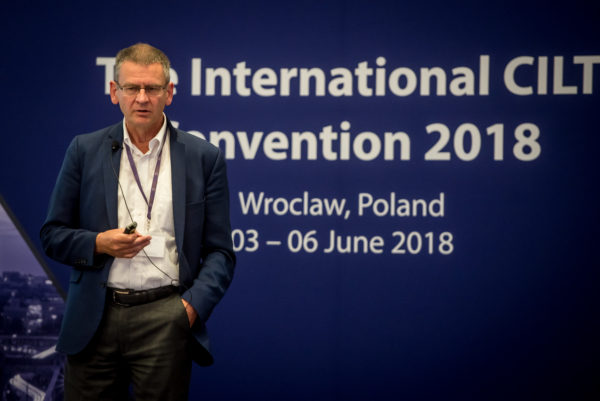 The final speaker of the session was Professor Lyu Zhongda, President of Ningbo University and one of the driving forces behind the Hangzhou Bay Bridge, who journeyed from China to Wroclaw to detail the research required, experiences gained and challenges met in building a 35.6km long trans-oceanic road connection across the Hangzhou Bay.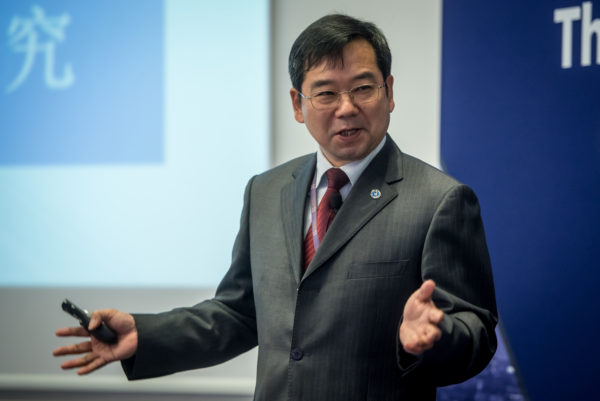 After the presentations conference divided into parallel sessions, with members attending the AGM and YPs attending sessions aimed at developing as a professional and a leader. This strand featured renowned leadership expert Jo Brosnahan helping YPs devise their own leadership plans, and Reading Buses CEO Martijn Gilbert giving an insightful presentation entitled 'Logistics as a prime career choice for Young Professionals'.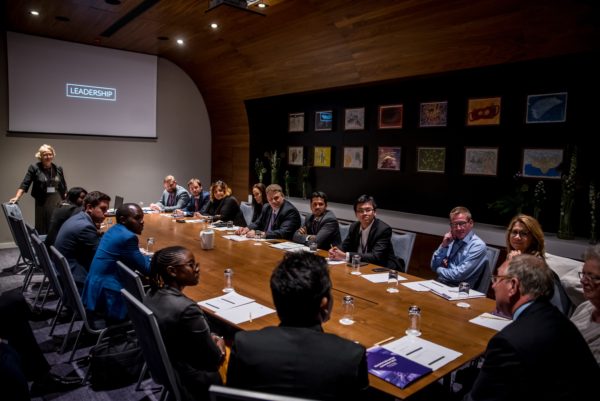 Delegates finished the day with the President's Dinner, during which the finalists of International Young Achiever of the Year were presented with their awards. Congratulations to Ir Xin-yu Gary Zhang, from Hong Kong, Winner of International Young Achiever 2018, to Urszula Kelly from Australia Highly Commended, and Liam Winter from New Zealand, Finalist.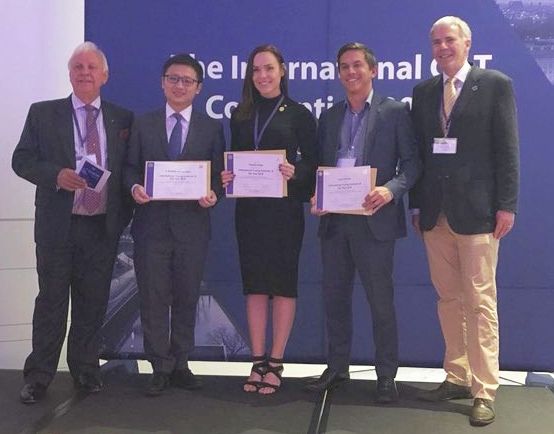 The first session on Day Three focused on CILT Education, beginning with a presentation from Jan Steenburg, Chair of the International Education Standards Committee. Speaking under the title 'Education, ELearning and Engagement', Mr Steenburg presented a positive outlook, highlighting the continued growth of our international student body. He then moved on to ELearning, pointing to the power of search engines and on-demand learning 'as you all know, the greatest source of learning available today is Google'.
CILT International Professional Development Coordinator Jon Harris then took the stage to present on key CILT education products, and key research surrounding those products done by the education team. Mr Harris also drew attention to the importance and power of on-demand learning, before inviting Nelson Sivalingam, Founder and CEO of HowNow on to the stage to discuss the topic further. In a presentation entitled ELearning 2.0 – Learning for the modern day workforce, Mr Sivalingam shared some of his hard won experience founding HowNow, as well as speaking about the learning expectations of the modern day workforce, 'We don't want to wait for the next off-site training day, the next workshop, the next class-room training session'.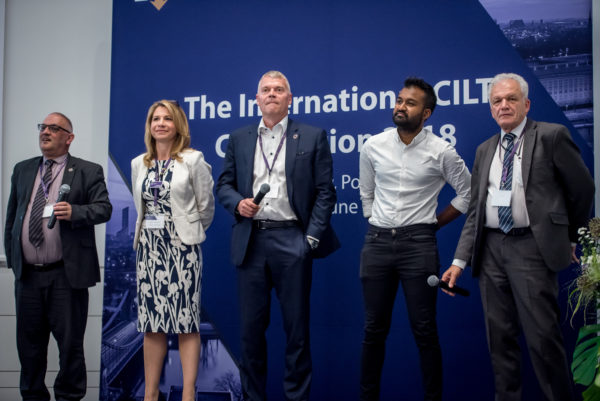 Andy Page, co-creator of the educational board game Business On The Move, then spoke about the game's ability to entertain and inspire, as well as the exciting prospect of an international edition. After Mr Page's presentation, Jon Harris returned to the podium to share with Convention the extraordinary progress CILT Kazakhstan have been making, saying 'the journey they have been on in the field of education has been quite outstanding'.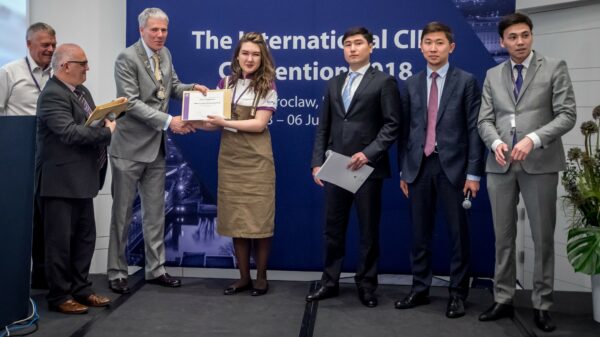 The penultimate speaker of the first morning session was Emma Jennings, the recently appointed Director of Education, Training and Qualifications at CILT UK, who lead an insightful analysis of educational practices, asking delegates 'what makes for excellence in training and educational organisations?'
The first morning session was then rounded off by Chris Jones, Chief Analyst at Canalys. His presentation turned delegates' attention to the second part of International Convention 2018's theme – The electric car revolution. Drawing on his understanding of global trends, developments in the motor industry and the technologies of Industry 4.0, Mr Jones outlined a future where vehicles are 'connected, autonomous, shared and electric'.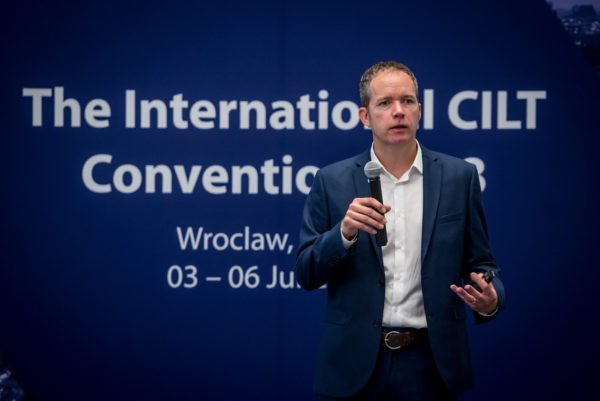 After the morning break Professor David Cebon, Director of the Centre for Sustainable Road Freight at Cambridge University, returned to the topic of the electric vehicle. His presentation, Prospects for Electrification of Road Freight highlighted the importance of new vehicle technologies in the fight against global warming, asserting that '80% CO2 reduction by 2050 is only achievable with electrification of most heavy goods vehicles'.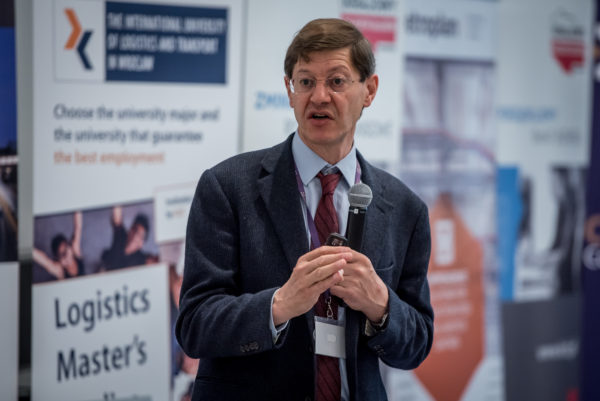 Deliberations then moved from industrial applications of the electric engine to rural applications as Phidelia Mwaba, CEO of Hokma Risk Management and immediate Past President of CILT Zambia discussed the importance of the electric bike for women in rural areas. Her presentation focused on the transport challenges for women in rural areas, and suggested that a lack of infrastructure and a prohibitive cost meant 'the electric car is still a dream' for many in such regions.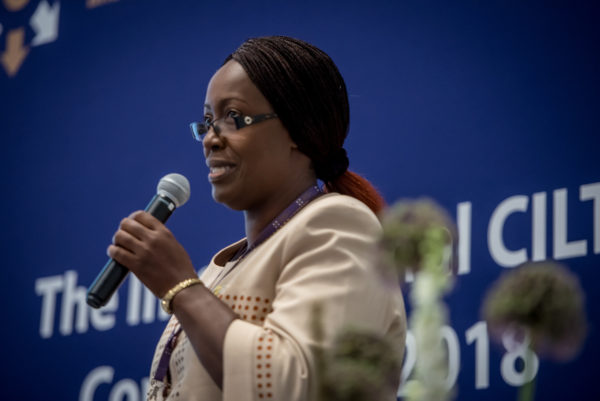 Professor Hugo De Campos of the Mike Ilitch Business School at Wayne State University, Detroit, then presented a lively analysis of Industry 4.0 logistics. Entitled Game-changers in Today's World of Logistics and Transport, Professor De Campos focused on the supply chain as a structure that 'exists to satisfy customer needs', and how the use of new technology is 'redefining the final mile as going past the front door and into the home'.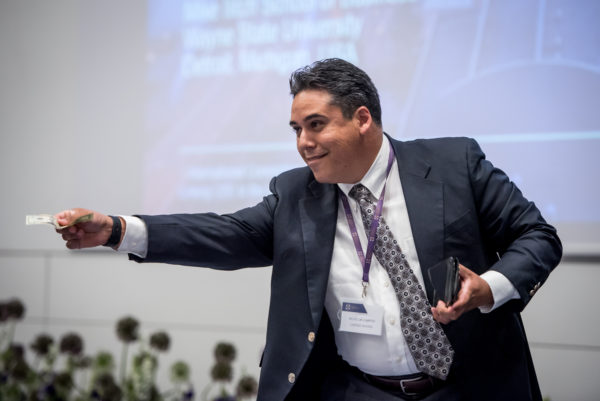 Following on from Professor De Campos was a presentation from Michal Brzozowski Managing Director of technical consultancy and planning company Metroplan's Polish operations, who provided insight into the technical issues creating battery production facilities in Europe. Although an old technology, the battery is one of the most important technologies in Industry 4.0, and Mr Brzozowski provided delegates with a thorough understanding of challenges, linked so closely to our own, that face colleagues in other sectors of the global economy.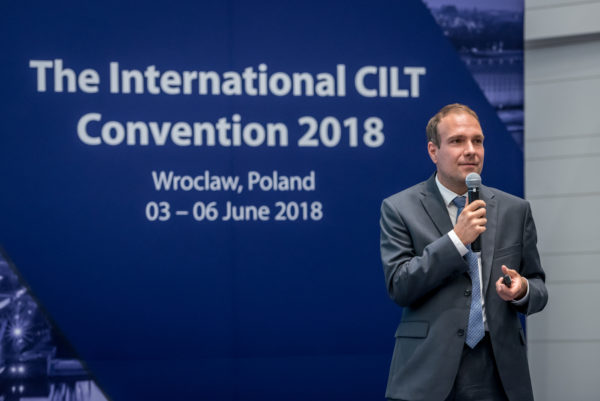 After a video invitation to the 5th China International Logistics Development Conference, to be held this year in Changsha, Hunan Province on the 18th and 19th of November, Director of Marketing and Communications at CILT UK Richard Atkinson rounded off the session with a warm invitation to International Convention 2019. Organised around our centenary celebrations, Convention 2019 will be held in Manchester between the 16th and 18th of June.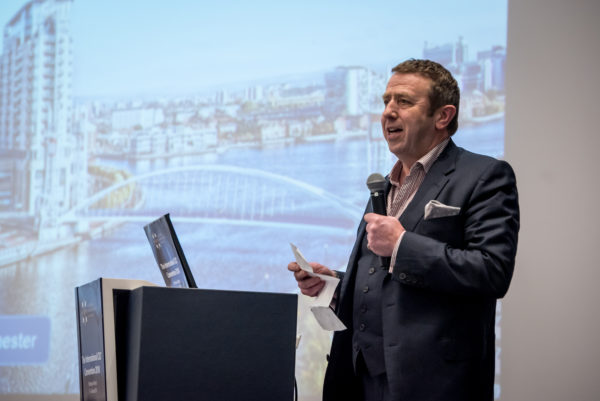 After lunch, the Convention team in Poland laid on a city tour for delegates, before everyone reconvened in the early evening for dinner on a boat cruising down the river Oder.
The final day of Convention was devoted to the ever-popular technical visits. This year delegates were able to tour the cutting-edge facilities of Amazon in Wroclaw and Kuehne + Nagel in Bielany Wroclawskie. Those interested in some older technology were able to visit the beautiful Topacz Automotive Museum and see its unique collection of vintage cars and motorbikes.
After four productive days spent learning from experiences around the world, discussing the challenges facing our industry, and laying the foundations for another century of success, delegates said their goodbyes and left for home, confident in the knowledge they are a part of a unique Institute with a significant role to play in the century ahead.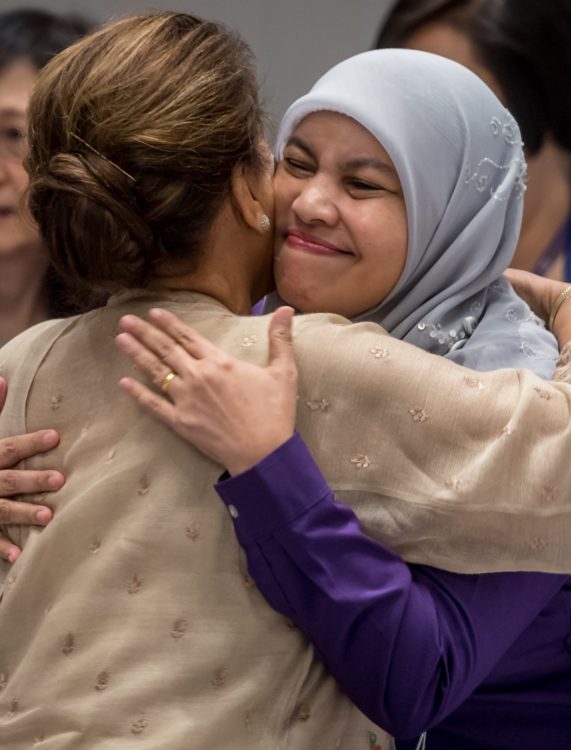 CILT International and the wider CILT family are grateful to Dr Marcin Pawęska, Master of Ceremonies Aleksandra Wilczura, and the Convention Team at CILT Poland for making us welcome in their beautiful city and hosting such a memorable event. We look forward to seeing you all next year in Manchester for our 2019 Centenary Celebrations.
Organised under the theme of Global Solutions to Global Challenges, Industry 4.0, Future Leaders (YPs), and Women in Logistics and Transport (WiLAT) will be at the heart of International Convention 2019. Join us in Manchester to celebrate our centenary, and help shape the next 100 years of our Institute and our industry.