The Chartered Institute of Logistics and Transport (CILT) is pleased to announce it will be taking delegates attending this year's International Convention to the award winning Jebel Ali Port, Dubai.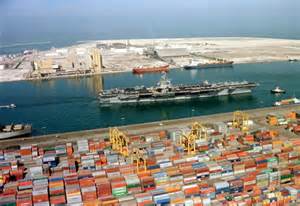 The port is the largest marine terminal in the Middle East and the flagship facility of DP World's award winning portfolio of over 65 marine terminals.
The tour will take place on the final day of the CILT International Convention, Wednesday 16th September, and offers delegates the chance to network further with CILT members.
Jebel Ali port is at the crossroads of a region, providing trading access to more than two billion people and those attending the CILT International Convention are invited to tour the man-made port.
As an integrated multi-modal hub offering sea, air and land connectivity, complemented by extensive logistics facilities, Jebel Ali Port plays a vital role in the UAE economy.
Paul Brooks, President CILT said:
We have located our 2015 convention in Dubai because of its global logistics role & its importance as a passenger and freight hub. Dubai is striving to be a key global shipping partner and maritime centre of excellence and is predicted to become one of the world's leading maritime centres. Jebel Ali is at the heart of that strategy and is a 'must do' trip for all transport and logistics professionals visiting the Gulf.
Delegates will be taken around the ninth largest container port in the world by a senior official who will provide a detailed account of the port's operations, history and future plans.
Delegates will also be able to attend the Jebel Ali Free Zone area (Jafza). The area is one of the world's largest free trade zones and provides support for global and regional foreign companies setting up in Dubai.  The 57 sq km site contains over 7,300 businesses, ranging from small and medium enterprises to global and international companies, and accounts for 22% of Dubai's GDP.
Stronger Together: Global Strategies for Success in Logistics and Transport is the theme for the CILT International Convention 2015. The convention takes place on 13th – 16th September, at Jumeirah Creekside Hotel, Dubai, United Arab Emirates.