Honorary Solicitor Rupert Nichols has been awarded an Honorary Fellowship for his significant contribution to the development of the Institute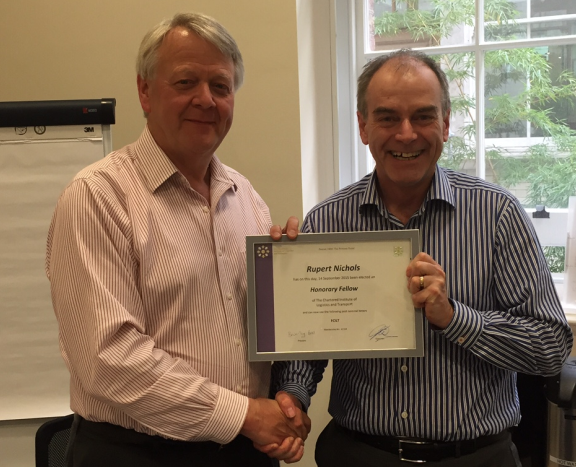 Rupert Nichols joined the Chartered Institute of Transport (CIT) whilst in Australia working for TNT. On his return to the UK in 1992, he was elected a Fellow and became more involved with the CIT as Honorary Solicitor, including supporting the team working to bring together CIT and the Institute of Logistics to form the Chartered Institute of Logistics and Transport (CILT)
As Honorary Solicitor, he has drafted several revisions to the CILT Bye-laws, which support the Charter, and liaised with the Privy Council to gain their approval.  As a member of the Council of Trustees he has contributed advice on governance and strategy to support the trustees in establishing the appropriate management, control and governance structures to underpin the growth of CILT internationally into the 21st Century.
As a Trustee and Honorary Solicitor for the global chartered institute since 1993 and a member of the Council of Trustees Rupert has dispensed sound advice, many words of encouragement and sensible words of reflection when needed.
In receiving his award, Rupert said
It has been a great privilege to be a part of the team, working with some great people and being able to contribute to transformational change over the past two decades. I look forward to working with the team over the next few years to take the Institute to the next level.
International President Paul Brooks, who presented the award during a Council of Trustees meeting in London,  remarked
Rupert's award is well deserved and we are grateful for his ongoing contribution