Women in Logistics and Transport (WiLAT) held the latest of their online chats this week on the theme Farm to Store Logistics Impact.
Guest speaker was Dato Mohammad Muhiyuddin Haji Abdullah, Managing Director, Gabungan Pemborong Bumiputera Perak Berhad, and President of the Perak Malay Chamber of Commerce and Industry. He is also the Patron of WiLAT Malaysia, and Founding Chairman, Perak Section of CILT Malaysia.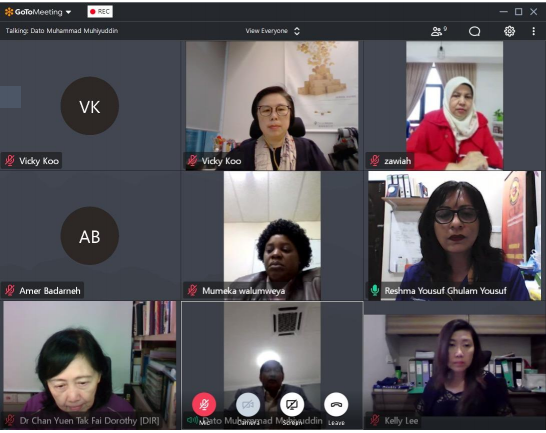 Dato Mohammad Muhiyuddin Haji Abdullah discussed the impact of farmers being unable to deliver their crops, and described how in Malaysia government agencies are purchasing food products from farmers at set prices, and are then taking over the transportation and distribution of the products down the supply chain as a short-term measure to resolve the last mile problem. This is of tremendous help to the farmers who are guaranteed that they can sell their products at an agreed price, without worrying about the lockdown impacts on transportation.
Dato Mohammad Muhiyuddin Haji Abdullah further discussed the issues related to rice supply. Malaysia relies upon Vietnam for the supply of rice, but Vietnam is no longer exporting. A key government task therefore has been to ensure a steady supply of rice through other countries such as India, Burma, Pakistan and Thailand. The question for government to examine post Covid-19 is how to build its agriculture capacity. The meeting discussed how individual households could be encouraged to take on hydroponics, which do not need much space and do not require soil. As the world population continues to grow, we have to resort to technology to produce more food and hydroponics is widely considered to be more sustainable than regular farming.
The meeting further discussed the use of data platforms to establish direct links between farmers and consumers, and to ensure that food products are received where they are needed most.
Dabney Shall-Holma identified that micro, small and medium enterprises (MSMEs) have been hit hard with logistics disruption in urban areas, resulting in a hike in food prices, and asked the guest speaker to advise on policies in response to the varied impacts on the value chain – from production, processing and packaging to distribution.
Dato Mohammad Muhiyuddin Haji Abdullah responded that lock down should not mean cutting off all transportation corridors. Essential services should be identified and maintained, with governments ensuring that movements of these essential services are facilitated without interruption. In a crisis it is important to have one command, and that the community work together from a single point of control. There are some sectors that have done well during COVID-19 through adjusting their mode of operation. In Hong Kong most restaurants offer take-away meals, and there are also home deliveries of groceries and other household items. Various chambers could also act as the bridge between government and industry so that timely relief measures can be provided. There are territories that offer wage subsidies, provide one-off relief grants to hard-hit sectors such as aviation, ports, cargo, as well as subsidies to taxi drivers, travel agents, tour coach operators, construction workers etc.
Dabney Shall-Holma also asked the guest speaker for advice on efforts or examples underpinned by the principles of unity and proper co-ordination geared towards measures to manage the economic impact of the pandemic on rural farming communities.
Dato Mohammad Muhiyuddin Haji Abdullah responded that it is important that farmers can sell their products, and that their products reach their destinations. In Malaysia, the Ministry of Domestic Trade and Consumer Affairs is responsible for domestic trade, co-operatives, consumerism, price control, and consumer rights. A key role is to oversee the production, supply and distribution of goods, price control and food control. Read the full report here
WilAT's mission is to promote the status of women in Logistics and Transport, to bring together those who aid the career development of women, and to provide a support network for women in the sector.
This is an example of a business response from Women in Logistics and Transport (WiLAT) which we are sharing as part of our global best practice resource to help you think about and determine appropriate responses locally.