A key part of CILT's mission is the creation and delivery of high quality educational and professional development tools. At International Convention 2018 in Wroclaw last June, Jan Steenburg and Jon Harris of the International Educational Standards Committee led a session on the current state of our educational offering, and their plans for the future.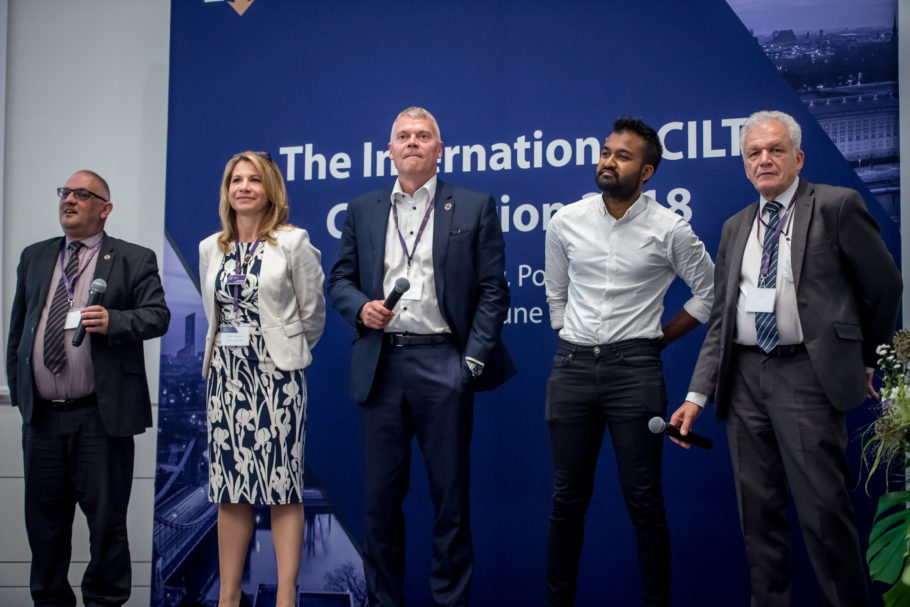 Opening the session, UK IVP Jan Steenburg discussed the good health of CILT International's own learning and teaching systems, 'We have more training providers today than we've ever had before…The number of students we've taken through education has grown year on year 15-20%. We're now taking over 3,000 students a year through CILT International courses alone.'
Jan also talked about the importance of education to CILT and our aims as an organisation, 'If we want to be the international professional body of choice, we must demonstrate that we understand what is required of people in our profession, and that we have ways of supporting them throughout their career.' He further highlighted the need to keep our learning accessible to 'everyone, everywhere', and to embrace the use of technology to help in our aims.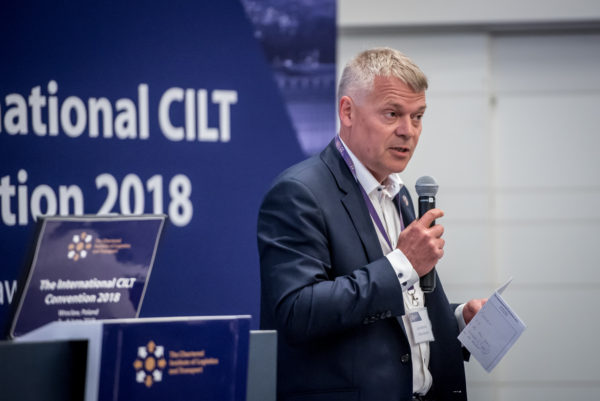 Finally, Jan reiterated CILT's commitment to high standards, and highlighted the importance of working with our partners to maintain those standards. 'We have to deliver with quality. Not just quality in the product, but in the delivery itself. So, we have to help the training providers, and improve their ability to deliver our training.'
International Professional Development Co-ordinator Jon Harris then took to the stage to deliver an overview of some CILT educational products and their development, including the Key Knowledge Areas document and the Language of Logistics programme. 'We want to help people where English is not their first language, to really be able to understand the universal English language, and particularly the supply chain, transport and logistics industries.'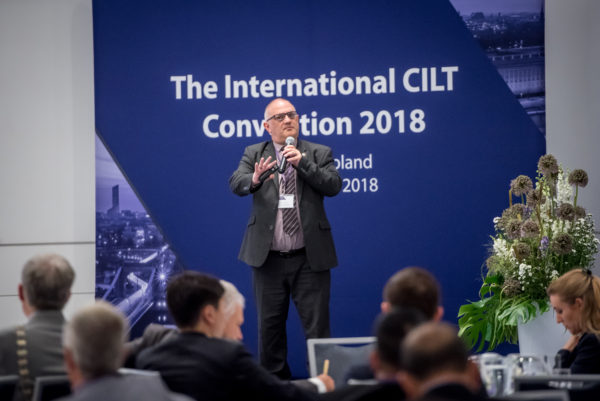 Jon also discussed the Promoting Training Excellence programme, explaining the need for 'high standard delivery across the world', before turning to some developments involving CILT Diploma schemes. 'We've been very encouraged by the number of providers, notably in South Africa, that have managed to create internship type roles linked to doing individual studies. So, this means in South Africa 30 women went through the diploma programme, and as part of that they are being asked to reflect on their experiences (as interns) and benefit their own sponsors and employers by looking at what could be done to improve things in their work situation.'
Turning to the Key Knowledge Areas document (KKA) Jon described his recent conversations with several branches and training providers about the usefulness of the KKA document. 'This is becoming really helpful. It has been part of them winning new business, and being able to offer a really robust training proposal to key colleges, providers and to business…The KKAs are there as a platform…they're there to show CILT globally means business, and it means quality. So please use them as a business development and trust partner tool.'
Following Jon was an excellent presentation by Nelson Sivalingam of e-learning provider HowNow. Opening with a few questions to the audience, Nelson demonstrated how technologies such as internet shopping and ride-hailing apps have disrupted their respective industries, before asking 'Why are we not letting it change and disrupt education? Whether we like it or not the way the world learns is changing.'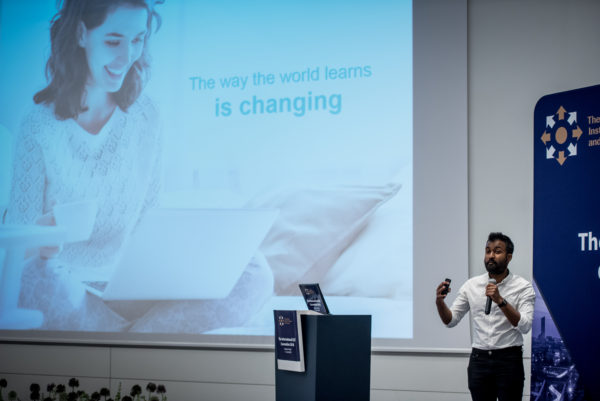 For Nelson, this is down to search engines like Google and sites like YouTube not just providing entertainment, but education. 'How is it changing? Before we used to talk about face to face classroom training, but now we want to learn from anywhere…we don't want to wait for the next…offsite training day, workshop, classroom training session.'
The massive increase in available information due to the internet coupled with the fast pace of modern living has created a need that cannot be met effectively using traditional educational paradigms, 'We used to have a mode of push learning…Now it's about on-demand learning. As and when I need the information, I go seeking that information and I go looking for resources…people can't wait for monthly workshops…they want to learn on the go, and so to do that in the way we do training now is too expensive. What digital learning allows us to do is cut the overheads and deliver a scale-able training alternative at a much, much lower cost.'
Also important in Nelson's mind is that moving away from the classroom or lecture hall allows for a more tailored student experience. 'We all learn at different speeds, we all have different aptitudes…no-longer does one-size-fits-all work. People want personalised learning.'
Crucially, digital learning is here to stay, and it is only going to grow. 'The question today shouldn't be do we need e-learning…the question really should be…how are we going to do it? E-learning is no longer a question, it's a must. The market is expected to grow to 240 billion dollars by 2023, and that's only taking in to account corporate and academic learning…since the year 2000 e-learning has grown by 900%'.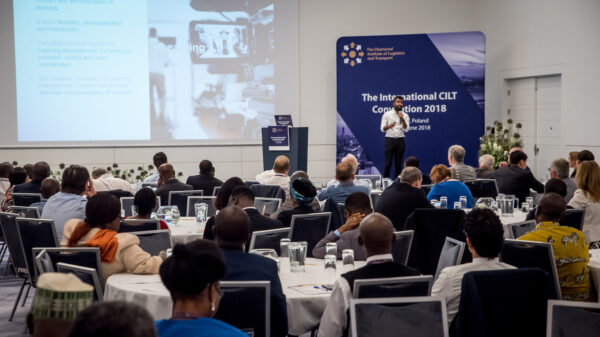 Part of this growth has been among Fortune 500 companies who almost all use e-learning in some form. '72% of these companies have said they consider e-learning as a competitive advantage. Not only that, they are seeing success rates of learners consuming five times more of material.' Nelson further cites feedback from these companies that 42% of these companies assert e-learning is increasing their revenue. 'How does it increase revenue? In two ways. One, it gives you a whole new product category…Don't think about it as a way of cannibalising what you currently have, but that it is opening it up to a whole new audience who weren't interested in the in-classroom training that you offer…the other way is it gives you a way to extend the relationship with your existing customers, and increase the lifetime value of your existing customers.'
For Nelson, the most important strength of e-learning is efficacy. 'E-learning has demonstrated 60% higher retention rates than any in-classroom training. One of the key reasons for this is…within a classroom environment we only retain 30% of the material we learn…so you have to go back to your notes, and sometimes that isn't enough. So that's why with e-learning we are giving you a digital resource you can revisit to get more value from the learning material.'
After Nelson, Andy Page spoke about the CILT sponsored educational board game Business on the Move. Developed by former Teachers Andy and his business partner Pat Smedley, Business on the Move is designed to excite and inspire 9 to 19-year-olds about business and the global supply chain. Andy discussed his experiences as a teacher, and how important he had found 'bringing business into the classroom, and making the word of business real for young people.'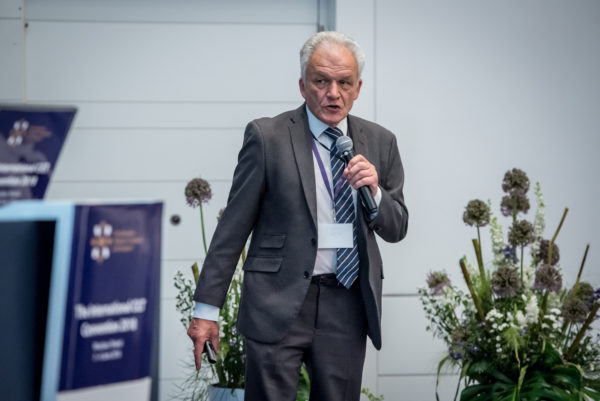 Andy then turned to the reasons behind the game's creation and design. 'It's essentially a multi-modal operation…We're aiming at youngsters, aged 9 to 19…We were trying to excite them about your industry. We believe logistics and supply chain is a wonderful business. It offers a wonderful opportunity to young people that is often hidden from them. They don't see it, even though it's right in front of them…you're too good at your jobs! So we have to bring this too them, to avoid them taking what you do for granted.'
A remarkable feature of the game is its ability to introduce what might seem quite dull or dry things, such as business accounting, in a manner that engages the players. 'The game involves quite simply bringing goods in from the other side of the world to a particular marketplace…at its simplest, with 9-year-olds, it's a race. The first one to deliver four loads wins. With the more sophisticated learners, the 19-years-olds in business learning…we're talking about looking at balance sheets, but we get 9-year-olds completing a balance sheet that balances.'
Andy and Pat have created Business on the Move using a Community Interest Company (CIC) model. Introduced by the United Kingdom government in 2005, CICs are designed for social enterprises that want to use their profits and assets for the public good. A CIC is limited by guarantee, there are no dividends, and any profits made are asset-locked by statute and must be invested in the community.
Andy then turned to the imminent release of the Global Edition of Business on the Move. An expanded version of the original, the Global Edition has been created in response to experiences won releasing the original, particularly the fact that 45% of sales went to countries outside the UK. 'The new version has two-way trade. Importantly, CILT have come up with a brilliant concept about investing in skills to enhance business performance that we're bringing into the game.'
Concluding, Andy talked about the strengths and aims of Business on the Move going forward. 'What's in it for business?' Andy quotes GP World's Dubai Sustainability Director 'She wanted to help change the face of logistics recruitment development. To actually start young, and that's where our passion still is. To use the game within schools, with children as young as nine and ten. To get them switched on to your industry…that's at the heart of what we do…and to make your industry, logistics and supply chain a career of choice…Our game is a modest resource for use…by you the training community…but we're hoping it can contribute to changing the face of logistics recruitment.'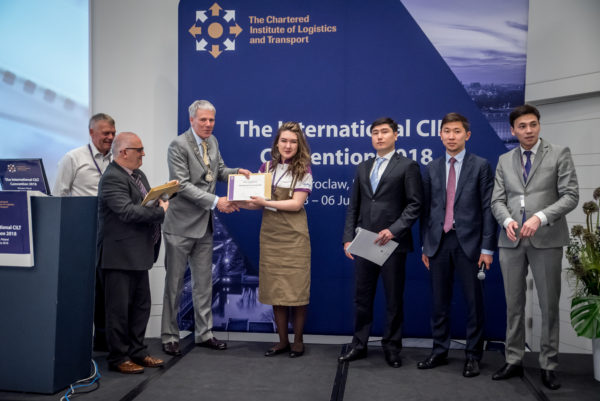 Jon Harris then returned to the stage, to speak about the great strides forward being made by CILT Kazakhstan, saying 'the journey they have been on in the field of education has been quite outstanding.' Jon was joined onstage by International President Kevin Byrne, who presented several Kazakh Young Professionals with their certificates.
Following the presentation, the new Director of Education, Training and Qualifications at CILT UK, Emma Jennings spoke on the topic of excellence in training organisations, focusing first on the importance of retaining employees, employee engagement, and education's role in employee engagement.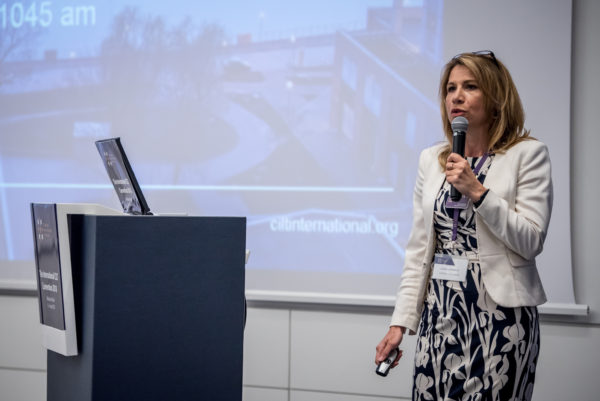 Quoting founder of Infosys N. R. Narayana Murthy's maxim "Our assets walk out of the workplace every night and our job is to ensure that they come back the next morning", Emma suggested 'the key to productivity and retention of staff is employee engagement…For employees to be engaged, they need to have very clear direction, very clear goals, and they also need to have the capabilities and the competence to do their job, and that's where education comes in.'
Emma then posed two questions, firstly 'Is education the solution to my problem?' and secondly, 'How can I ensure that education is effective and of quality?' Drawing parallels with the actual business of logistics, Emma said that 'logistics is all about getting the right stuff, in the right place, at the right time, and it's the same for education'.
She also demonstrated that education has a development cycle like any other, and just as with other products, to be successful that development cycle must fulfil a need. 'Having worked in higher education for some time, there seems to be an idea that…if I'm in a University and I'm an expert on something, if I build it they will come. Let me tell you that's not true…It's very expensive to develop education; there is a large up-front cost if you are using technology; that cost is multiplied if we are talking about regulated qualifications. So, you have to make sure there is a market for your education. If you are buying education, make sure you are very clear on what the aims of that education are. What problem is it you are trying to solve?'
Emma then turned to the issue to delivery. 'What is crucially important is the method, the how. How do people learn? …All of us are ingrained to the idea that education has to be delivered in a classroom style, and of course, that's not true now. So how do adults actually learn?' Referencing the 70-20-10 principle, Emma explained 'In broad terms the way that adults learn is that 70% of what they learn at work is on the job, 20% is through coaching and mentoring, and 10% is through formal means…the importance is many of us learn what we need to through others.'
Concluding, Emma echoed Nelson Sivalingam, stating that people 'want education which is on-demand. They want it where they want, when they want, how they want. They want it in short pieces…it has to have impact. It has to be social, people learn with others; embedded, so there are immediate opportunities to apply what has been learned. Learning has to happen when they arrive, and be applied straightaway…Autonomous, so the learner needs to have control over what it is they're learning.'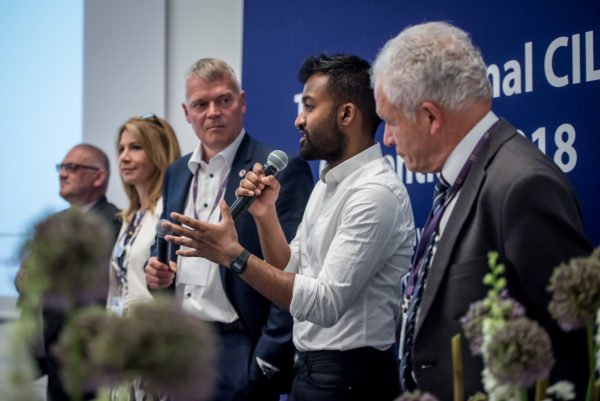 The final part of the session was dedicated to a question and answer session with the panel of speakers. CILT International is grateful to everyone for their contributions.
CILT International Convention ran this year from the '3rd to the 6th of June' under the twin themes of Linking CEE to the World and The Electric Car Revolution and its Impact on Logistics. Delegates enjoyed an exciting 4-day programme, including presentations by Professor David Cebon of the Centre for Sustainable Road Freight, Professor Hugo De Campos of the Mike Ilitch Business School, logistics expert Professor Kim Hassall, and Chris Jones, Vice-President and Chief Analyst at Canalys.
You can catch up on this and other presentations via our Facebook videos page. The PowerPoint presentations from International Convention are also available on our SlideShare page.
Next year we will be in Manchester for International Convention 2019. Organised under the theme of Global Solutions to Global Challenges, Industry 4.0, Future Leaders (YPs), and Women in Logistics and Transport (WiLAT) will be at the heart of International Convention 2019. Join us in there to celebrate our centenary, and help shape the next 100 years of our Institute and our industry.