The winner of the International Young Achiever of the Year 2015 is Isabella Austin, a Young Professional from London, UK. This prestigious award, which is presented at the Chartered Institute of Logistics and Transport's annual International Convention, is made to a young person who has made a significant contribution in their role working in logistics or transport.  The recipient of the award is also provided with a bursary of £2,000 to enable them to undertake further research or travel on a transport or logistics project.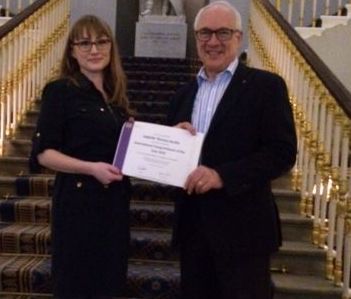 Isabella Austin, who was nominated by Steve Agg, CEO of CILT(UK) is also the CILT(UK) Young Manager of the year 2014/2015. She works in the e retail logistics area and at the time of receiving the UK award was working for Collect+. She has since progressed her career and moved to Whistl. Isabella proposes to use the bursary on a series of short courses to widen her knowledge of logistics and supply chain management.
International President Paul Brooks announced the award during the President's Dinner at International Convention in Dubai. Janet Eady, Head of Membership, Events and Regions for CILT (UK) collected the award on Isabella's behalf.
 The judges were impressed that Isabella is at the start of her career and has obviously made an impression on those around her. I think her wish to learn more around the edges of her job and company, to improve the width of her knowledge is bold.
Also commended by Paul Brooks were runners up Nick Flack from New Zealand,  Arno Taljaard from South Africa, Ryan Falconer from Australia and Kelvin Ng Cho Lun from Hong Kong