Freight and logistics are growing quickly along with economic development in Asia and the Pacific, but the region faces challenges in ensuring that goods move in an efficient, low emissions and low-impact fashion.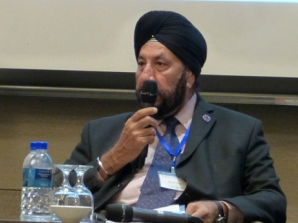 This largest-ever workshop on Green Freight and Logistics in Asia, co-organized by the Asian Development Bank (ADB) and Deutsche Gesellschaft für Internationale Zusammenarbeit (GIZ)  was held from 25-27 June, 2014 in Singapore, to promote peer learning and exchange among key stakeholders active in freight and logistics.
The workshop was successfully delivered over three days with over 100 participants representing 17 countries and 30 organizations
Karmjit Singh, Chairman of the Chartered Institute of Logistics and Transport in Singapore was invited to participate in a panel of guest speakers discussing: Green freight and logistics in Asia: Current trends and future pathways. Mr. Singh discussed Singapore as a logistics hub that developed from nothing to become one of the most efficient airport and seaports ranking globally, not only serving regional but also global trade. He concluded that there are challenges related to the human aspect of freight and logistics
Habits are hard to change, even with incentives.
Read an extract of the report covering the panel discussion here: