Kenneth Courtis, Chairman of Starfort Investment Holdings and former Vice Chairman, Goldman Sachs Asia will address delegates at the North America Conference on day 4 of International Convention 2016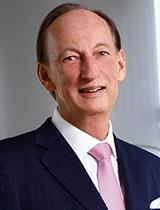 Kenneth Courtis, an expert on Asian economies, global market forces, politics, and corporate strategy, will headline the North American Outlook Conference to which all International Convention delegates are invited.
As one of the world's leading investment bankers and analysts of Asian economies, Kenneth Courtis influences major business decisions and moves markets with his public comments. For his unusual accuracy as a predictor of economic trends, business and government leaders seek his advice on matters of international economics, finance and investment.
He is widely sought after by the heads of major corporations and investors for his knowledge of how global market forces, financial and political developments, and corporate strategy interact. He has also worked closely with central banks, ministries of finance, and heads of government. He has been called upon to advise the heads of governments of countries in Europe, Middle East, Asia, and North America, including four U.S. Presidents.
Kenneth Courtis advises major clients throughout the Asia-Pacific region, Europe and North America and has led a number of large, international corporate transactions centered on Asia and pioneered a number of investment banking areas across the region. Find out more about Kenneth Courtis here
See the full programme for Convention16
Book your hotel for Convention 16