The Chartered Institute of Logistics and Transport is pleased to announce that Sean Culey will be presenting a special CILT webinar on the 9th of September. Sean is a world leading futurist, keynote speaker, globally recognised business transformation expert and author. His most recent book Transition Point: From Steam to the Singularity is an in-depth examination of the causes of technological progress and how the current wave of change will disrupt our business models, economy and society at large. Ahead of his webinar, I caught up with Sean to preview his presentation, and discuss the implications of Covid-19 and his thinking on the future of our industry.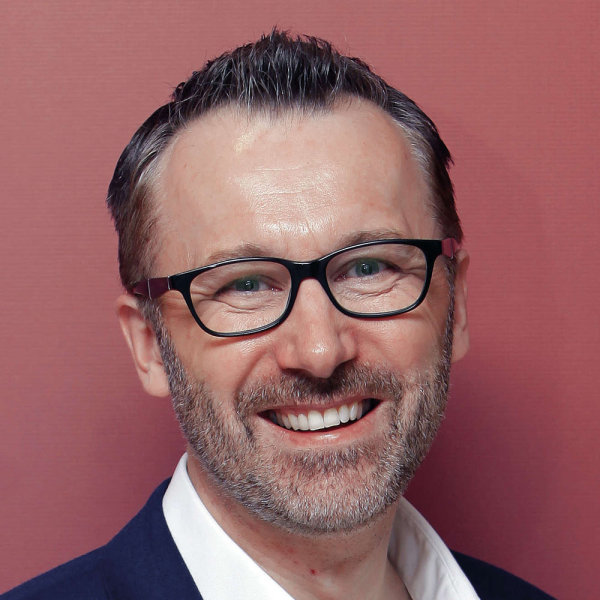 Sean's interest in the way ideas and technologies interact began at the University of Hull where he studied Business Information Systems. 'It was actually the UK's first degree that combined business studies and information technology. Up to that date everything was either IT related or business related. That's what attracted me to it was it was a mash of business and IT, trying to bring the two together.'
After graduating he held worked in a range of capacities and environments, including working as a systems analyst and latterly IT manager at Dunlop Oil & Marine, a business analyst at Redland bricks, and as a consultant, first for Sony Music UK and Sony Professional Broadcasting, and then Cadbury Schweppes, where he worked on a global SAP system implementation. 'I was focused on what was called customer to cash, but really I was focused on bridging the gap between planning and execution…and that allowed me to develop quite a deep understanding of how the different parts of the supply chain needed to operate.'
This was not always plain sailing, and Sean would regularly come up against internal resistance. 'I had to learn a lot of the softer skills, change management skills. It wasn't just about understanding supply chains, I had to learn very quickly the more emotion based change management skills. Convince people that I wasn't there to disrupt their world, I was there to help make things better.'
Several years later was perhaps the most crucial breakthrough.  In the late 2010s Sean was asked to join the Supply Chain Council's European Leadership Team. Part of that role involved occasionally chairing SCC events, including one in Madrid. 'Whilst chairing that event I noticed something. As chairman I had to sit in every session, and we had people talking about robotics and big data, new types of collaborative robot in manufacturing, 3D printing was becoming hot…and I realised everyone was talking about each technology and no-one was talking about what happened when they connected.'
The interaction of technologies and ideas has since become the main focus of Sean's research, and resulted in his latest book Transition Point – From Steam to the Singularity. Starting with an examination into the drivers of technological change and the social, economic and political factors that both enable or suppress it, Transition Point explains why industrialisation happened where and when it did, why progress comes in waves, and why the technologies in the current wave, such as robotics, blockchain and AI, are likely to be the most disruptive of all.
The ideas discussed in the book will also form the core of Sean's webinar. During our interview, as an introduction to intellectual landscape of Transition Point, Sean paraphrased part of an article he wrote for the P3 Logistics website. 'We find ourselves at another transition period – the Digital and Robotic Age. Technologies are combining together to transform both the way we shop, and the way goods are delivered. A new type of digital supply chain is emerging, one that I name the PAL supply chain – Personal, Automated and Local – and it is arising because of the convergence of three major forces. Firstly an increase in efficiency through automation, AI, and the ability to facilitate small-scale production of goods and provision of services using robotics and 3D printing. Secondly an increase in speed and availability of internet connectivity, creating a more connected supply chain and a less centralised workforce. Finally a dramatic fall in the cost of physical transport caused by autonomous and electric or alternative fuel powered transportation. This convergence of new technologies is being utilised to create a logistics network capable of providing an on-demand, ecommerce marketplace in both urban and suburban locations.'
No conversation in the current climate can go long without touching on Covid-19 and the long terms implications such an event poses. For Sean, the pandemic, and in particular the associated lockdowns have serious implications of logistics and transport, and has sped up the transition to a new social and industrial paradigm. 'The pandemic has forced a population to live in isolation and avoid crowded places; and in doing so also forced them to learn how to order everything online, work remotely, and embrace non-group activities. Children and students are being taught via Zoom, gyms are setting up remote and virtual offerings, restaurants and cafes are offering only delivery and take-out options, movies are being released online via streaming services – basically every company has had to either rethink their business model or their ways of working, accelerating the digital and online revolution.'
For Sean, this acceleration has also affected the move to a cashless society. 'Now, physical currency is seen as a biological nightmare…The social distancing rules also mean that the simple act of handing over money is problematic, for you have to be next to someone to do that. People are therefore having to overcome any natural resistance they may have felt towards contactless and digital payments methods, creating a preference for these methods in even the slowest of adopters.'
The act of work itself, and how companies manage their workforce has also been greatly affected, with many people now working from home, and in Sean's mind, this is a change that is likely to stay. 'Companies have decided it's just as effective, and actually they don't need all that prime real estate in the middle of the city centre.' Instead they will 'strip it down to the bare minimum of real estate that we need, and everyone else can dial in from home.'
Alongside the promise of technology, Sean is wary of a darker side to the 'new normal'. 'It's going to accelerate the "Isolation Economy" as I call it quite dramatically…the pandemic has told you stay at home, wear a mask, avoid people. It's accelerated the more negative social implications of the new paradigm…isolation, social anxiety, depression'. He references the Japanese phenomenon of hikikomori, 'people through technology have access to a whole raft of media, through apps have the ability to order in food, through gaming have the ability to interact with other humans, albeit at a distance. They create an entire lifestyle that basically doesn't involve them going out much into the physical world and actually meeting other humans.'
Despite this, Sean remains optimistic about the future, largely due to faith in the ingenuity of humans. 'The pandemic has forced us to think differently, and that's a good thing. Necessity is the mother of invention, and there's a lot of necessity out there at the moment.'
Sean has 25 years of experience in supply chain transformation, including 10 years as the Design Authority on a $600m global SAP implementation, 6 years as CEO of a boutique business consultancy and VP of Marketing for a supply chain analytics company. He is a Visiting Fellow at Cranfield University, a Fellow of the Chartered Institute of Logistics and Transport (FCILT), and a Transformation Advisor for the Association of Supply Chain Management (ASCM). He is the UK's only certified SCOR Master Instructor.
Sean's webinar is open to all members and will be broadcast on the 9th of September. Follow this link to register.
A recording of the event will be published shortly after and available to all through our Twitter, Facebook and LinkedIn pages, as well as our YouTube channel.