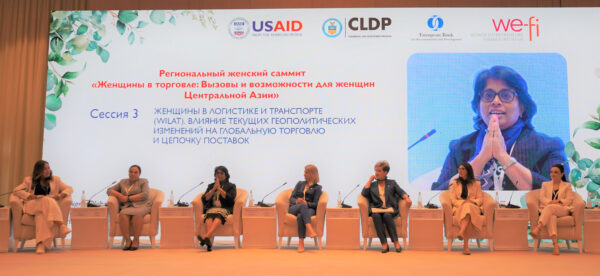 On the 21st September representatives from our Women in Logistics and Transport (WiLAT) group and USAID came together for the second-annual USAID Women Leadership Summit on 21st September in Tashkent, Uzbekistan.
This years' theme centred on Women in Trade: Challenges and Opportunities in Central Asia. Best Practices and brought together 150 female-owned and female-managed businesses, activists, businesswomen's associations, government agencies and NGOs from all over Central Asia.
Co-hosted by USAID's Trade Central Asia activity, the European Bank for Reconstruction and Development, and the U.S. Commercial Law Development Program (CLDP), the panel included contributions from WiLAT Global Chairperson, GVC Central Asia, GVC Middle East and Europe, WiLAT Tajikistan Chairperson, WiLAT Uzbekistan Chairperson and Deputy Minister of Transport Uzbekistan.
The focus of the discussions centred on how to collaborate and best integrate gender considerations into all sectors of the economies of Central Asian countries, particularly into trade and customs. The group also discussed the benefits of opening a Women in Logistics and Transport (WiLAT) Uzbekistan office, and the current geopolitical changes regarding supply chains, air transportation, and global trade issues.
The summit's agenda included sessions titled:
Women in Customs: How Gender Balance Can Make Customs More Resilient, Credible, and Representative?
The Role of E-Commerce in Global Trade: How Can Women in Developing Countries Harness E-Commerce?
The Impact of Current Geopolitical Changes on the Global Trade and Supply Chain
Concluding the summit, our four Central Asian Associations of Businesswomen signed quadripartite Memorandum of Understanding (MOU) on key regional cooperation initiatives and proposed to take leadership on the next Regional Women's Summit. Additionally, the Uzbek and Tajik women microcredit organisations concluded a cooperation agreement.
To find out more about WiLAT, visit here or to join WiLAT, contact a WiLAT representative in a territory local to you. For more information on USAID Trade Central Asia and their activities in improving region-wide trade connectivity and harmonisation, visit here.