The conference will focus on "The Resilience Challenge for Transport and Logistics: Reflecting on the Lessons Learned".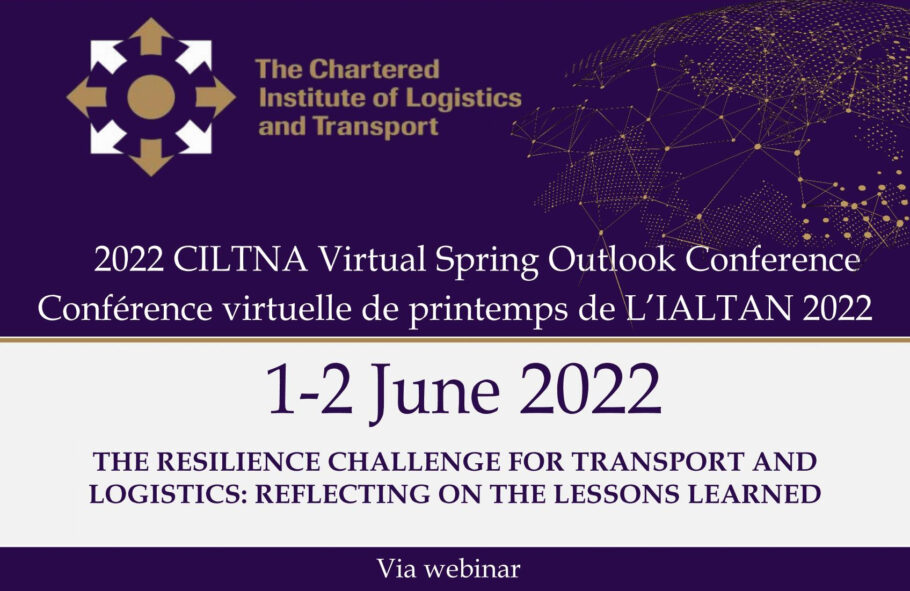 Day 1: Module One from 11:00 a.m. to 1:00 p.m. ET
To open the conference, we will have Deputy Minister of Transport Canada, Michael Keenan speaking to us, then we will hear from Admiral Mark Buzby, retired United States Navy rear admiral who served as the Administrator of the United States Maritime Administration.
On Day 1: Module Two from 1:30 p.m. to 3:30 p.m ET
A rail module covering supply chain challenges for the railways beginning with Dan MacGregor, co-founder of Nexxiot, followed by Dr. Sylvain Charlebois, Director and Professor, Agri-Food Analytics Lab, Dalhousie University. Then we will hear from Allison Ishihara Fultz, Chief Counsel from the FRA – Federal Railroad Administration of the US DOT and Joan Hardy, VP Sales & Marketing – Grain & Fertilizers, Canadian Pacific.
On Day 2: Module Three from 11:00 a.m. to 1:00 p.m. ET
The opening speaker will be John Bescec, Director Global Customs & Trade Facilitation for Microsoft and the Chair of International Chamber of Commerce Customs & Trade Facilitation Committee will discuss the issue of Digitization and where/how it is progressing in global trade. He will be followed by Barbara Roos, Managing Director of Ab Ovo a Dutch technology firm dealing in Operational Research, followed by Laurent Huenaerts, VP & General Manager at Unifly Inc. and Bob Hitt, North American Lead, Transportation & Logistics Industry, Salesforce.
On Day 2: Module Four from 1:30 p.m. to 3:30 p.m. ET
We will hear from Olivier Secache, Regional Cargo Manager, The Americas at International Air Transport Association (IATA) followed by Shaun Stevenson, President & CEO of the Prince Rupert Port Authority to outline what this Port is doing to increase off dock/container storage infrastructure as a major focus. Finally, we will hear from Andreea Crisan, President and CEO at Andy Transport will speak to the challenges faced by their company and its clients.
Registration for Non-Members is $50.00 CAD and free for CILTNA Members.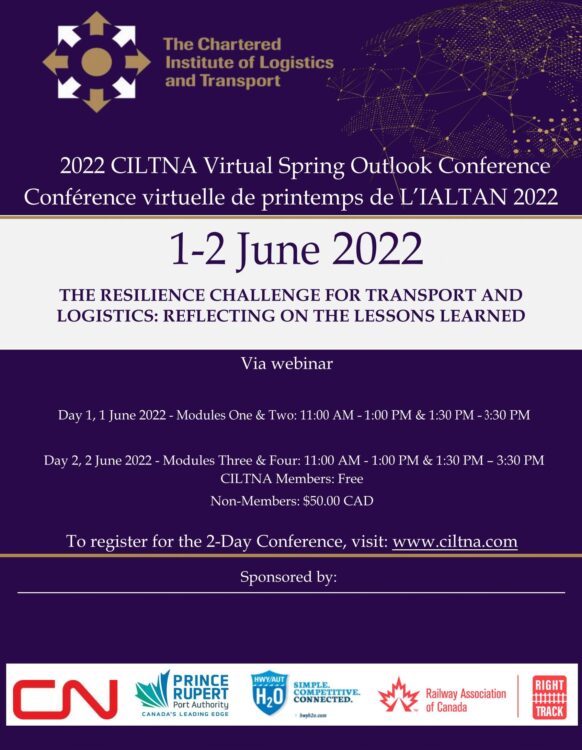 Event Categories: Digitalisation | Logistics | Transport | Supply Chain