B&F Global (Tanzania) in collaboration with other local and international transport stakeholders is organising the 2nd International Congress on Transport Sector Development (ICTSD 2021) to be held  in Dar es Salaam, Tanzania.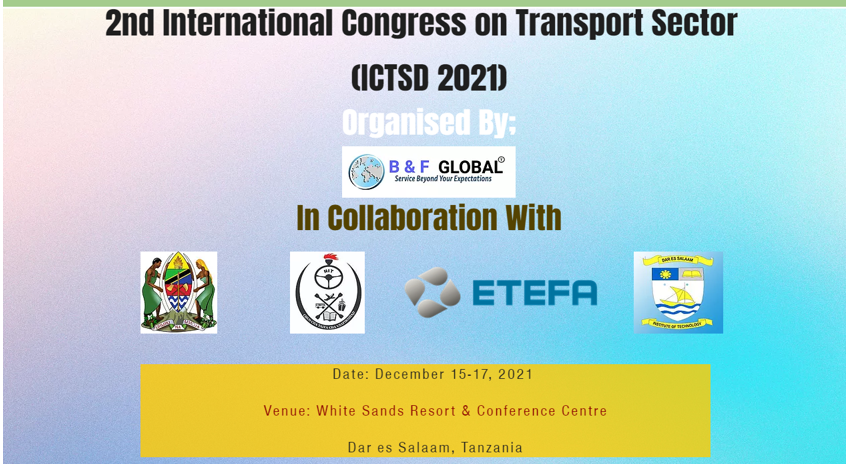 The theme of this year's congress is Shaping the Transportation Sector of Tomorrow.
ICTSD 20221 will focus on discussing transport sector development in Tanzania, Africa and globally. The congress provides a platform for exchanging, and sharing of experience and knowledge relating to all modes of transport including road, rail, waterways, airways and pipelines.
​Participants of the congress also have the opportunity to debate on issues relating to policies, practices, procedures and regulatory initiatives needed to attract investments in the sector.
​ICTSD 2021 will include the following themes:
Public Private Partnerships on Transportation Projects : Risks, Rewards and Opportunities
Addressing the Challenges of Traffic Safety Policies and Practices (Road, Rail, Waterways and Airways )
Sustainable Urban and Rural Mobility: Planning and Development
Sustainable and Green Transport Infrastructures (Road, Rail, Waterways, Airways and Pipeline)
Climate Change Adaptation on Transport Infrastructures Development: Policies and Practices
Mobility as a Service (MaaS): Preparing for New Era in Transport
Covid – 19 and the Consequence on Transportation and Logistics: Challenges and Opportunities
For further information please visit the Congress website
Event Categories: Covid 19 | Transport | Sustainability