The past decade has shown many accidents and explosions on board container ships which have resulted in the loss of lives, damage to property, and destruction of the marine environment. In order to safely manage the physical movements of these goods, adhering to the provisions and guidelines developed by UN agencies are essential. In this webinar we will provide an awareness of these various provisions and guidelines and explore the repercussions of non-compliance.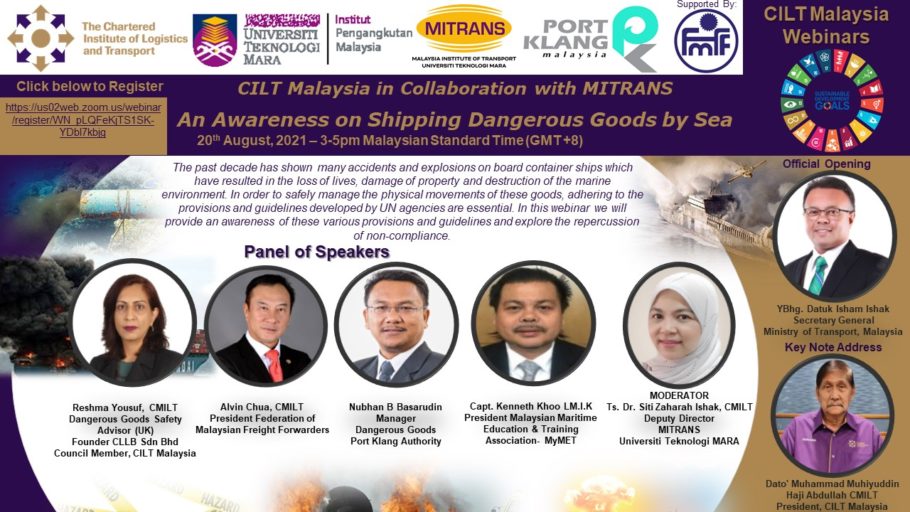 Guest Speakers are:
Reshma Yousuf, CMILT – The Land and Logistics: Shipper's Perspective and Responsibility
Alvin Chua, CMILT – The Perspectives and Liabilities of the 3rd Party Logistics Services Provider
Nubhan Basarudin – DG Manager of Port Klang Authority will speak about the role of the Port Authority and Terminals.
Capt. Kenneth Khoo – will speak about the Carrier (Ship, Cargo and Crew) perspective highlighting the consequences of non-compliance.
Officiating this webinar is the Secretary General of the Ministry of Transport, Malaysia.
Moderating the Webinar is: Ts. Dr. Siti Zaharah Ishak, CMILT, the Asst. Director of MITRANS.