CILT Ireland is delighted to host this webinar to virtually launch our first policy research report in 2021. We are looking through a sustainability prism and discuss the current policy support and industry practice in Ireland. We hope to generate dialogue and raising awareness of CILT members and the wider public audience.
Guest Speaker Hildegarde Naughton, Minister of State at the Department of Transport will open the session.
Dr. Eoin Plant and Sabrina Zhang, CILT Policy Committee will discuss "Where does Ireland stand on Climate Change for Transport and Logistics Sectors."
In this study, we investigated the current sustainable transport policy in Ireland. We will share insights from 21 transport experts from both public and private sectors. A list of the international best practices that could potentially be adopted in Ireland will be presented.
Eoin is Associate Professor of Logistics and Supply Chain Management at Edinburgh Napier University and Chair of CILT (Ireland) Policy Committee. He previously led the National Institute for Transport and Logistics (NITL) at Technological University Dublin. He previously worked with a number of UK universities including the University of South Wales. Eoin has carried out research and published peer-reviewed journal articles on sustainable supply chains, collaboration, and urban logistics.
Sabrina is a Ph.D. candidate at Technological University Dublin in Ireland. Her current doctoral research focuses on sustainable urban logistics. She holds an MSc degree in logistics and supply chain management from Cranfield University in the UK. Sabrina previously worked as a research assistant at the Asian Institute of Supply Chains and Logistics at the Chinese University of Hong Kong.
John Pakenham, Co-founder and Director, VisionGreen will examine "How sustainability reporting and customer impact data can support a transition to a triple bottom line approach to sustainability"
John is the Co-founder and Director of VisionGreen, whose logistics arm of the business VisionGreen Logistics Solutions Ltd became the first logistics company in Ireland to make retail deliveries with biomethane-powered trucks in a partnership with BWG Foods. Previously, John has been the Head of Supply and Business Development at FoodCloud growing the supply base and network development. Also, he worked for 17 years at Tesco Ireland in Retail Operations, Logistics and Supply Chain Management successfully delivering Business Improvement and Operations Management projects.
Tom Ferris, Consultant Economist will discuss "Transport centre stage".
Transport has always been extremely important for Ireland, trading as a small open island economy. But in recent years transport has had to come even more centre stage in Ireland, as it grapples with Climate Change and Brexit.
Tom Ferris is a consultant economist. He was formally the Senior Economist at the Department of Transport. He is a former president of the Chartered Institute of Transport in Ireland. Tom has wide experience of the public sector and the private realm. He has undertaken consultancy projects for the World Bank, USAID, the OECD, a number of Irish Government Departments, as well as private and public sector companies in Ireland. He has published widely on Brexit and transport, regulatory economics and good governance.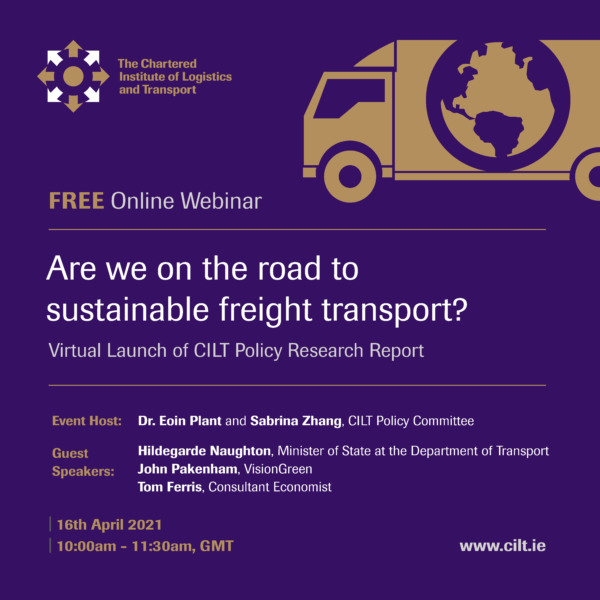 Event Categories: Logistics