B&F Global (Tanzania) in collaboration with local and international stakeholders will be organising the 3rd Resilient Tanzania summit (RTS 2021) from 25th to 27th August 2021 at the Julius Nyerere International Convention Centre (JNICC), Dar es Salaam, Tanzania.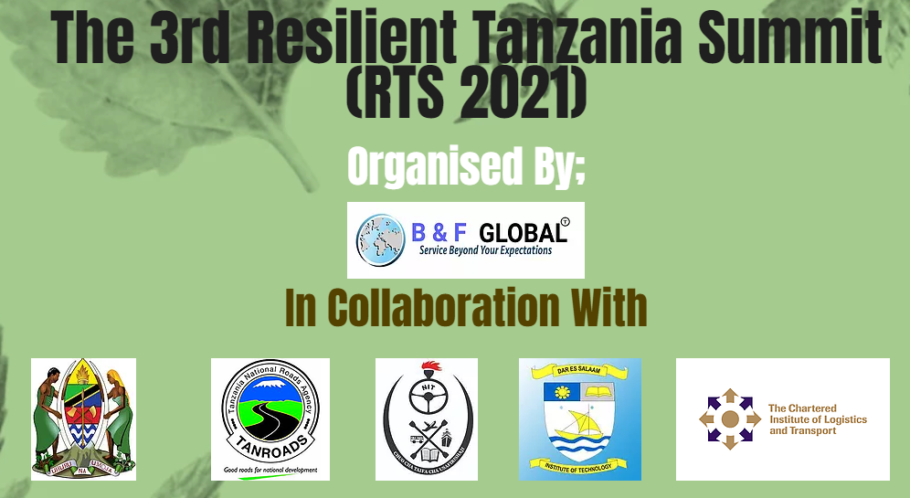 The Resilient Tanzania Summit is a platform for scientists, policy makers and infrastructure professionals to share the latest knowledge on infrastructure resilience, reliability and asset engineering. Resilience is still an emerging concept and the Future Resilient Systems aim to forge and further develop it through this platform.
RTS 2021 will examine efforts to integrate resilience in all aspects of transportation infrastructures, telecommunication infrastructures, mining infrastructures, and water and energy infrastructures, together with the oil and gas sector, including planning and programming, capital improvements, and operations and maintenance.
The Summit will promote local and international dialogue on research, innovations and technologies, implementation, and lessons learned on this important topic, with benefits that are expected to extend beyond the mentioned sectors. The Summit will build on the content from the 2nd Resilient Tanzania Summit (RTS) held in August 2020.
Resilient Tanzania Summits are commonly attended by senior government officials, regional and local government representatives, engineers, technicians, transport planners, economics, telecommunications and ICT professionals, private companies, non-governmental organisations, policy and decision makers, development partners, researchers and academics, and other interested parties from Tanzania and other Countries in the World.
RTS 2021 will cover (but is not limited to) the areas reported below.
Public Infrastructure Asset Management (Transport, Power/Energy, Water, ICT, Telecommunication, Oil and Gas)
Planning and Management of Sustainable and Resilient Transportation Systems (Road, Rail, Air and Water)
Understanding Risks and the Importance of Resilient Infrastructure Investments
The Importance and Role of Public and Private Initiatives in Disaster and Risk Management
Strategic Infrastructure Planning under Climate Change (Transport, Power/Energy, Water, ICT, Telecommunication, Oil and Gas)
Real-time monitoring, optimisation and control of Infrastructure Systems
Green Infrastructure Designs to meet Social, Economic and Environmental Objectives
Find out more about RTS 2021 here
Event Categories: Transport