The glaring truth of climate change and how it is affecting our planet forces the global community to reassess their consumption patterns and the methods in which products are sourced, manufactured and ultimately delivered to the consumers.
The demand for change socially, politically and economically forces organisations to ensure that their supply chains' environmental impacts are reduced substantially and significantly. This would require the development of sustainable logistics and supply chain strategies.
There are strong interactions between logistics, environment and natural resources. In addition, the approach of logistics is interdisciplinary, holistic and cross-company. Realizing environmental objectives can be done in synergy with other strategic and financial goals. This is the basis of the great potential of this new logistics problem and challenge.
In this webinar the Chartered Institute of Logistics & Transport, Malaysia (CILTM) will be exploring this challenge with a panel of expert speakers who will share their stories and lessons on sustainable initiatives they have taken and provide some insights on how our logistics community can adopt certain immediate steps.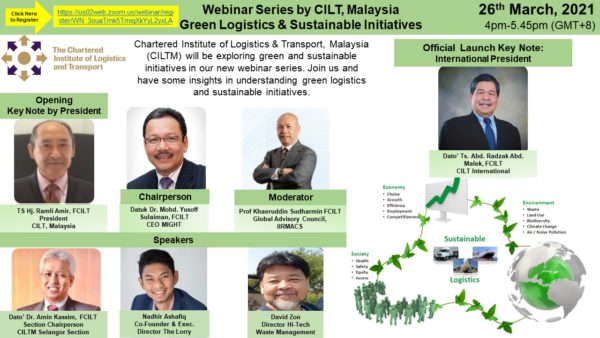 Event Categories: Logistics