This webinar is jointly organised by CILT Malaysia and CILT Indonesia through Malaysia's International Business Forum (IBF), and in association with the Women in Logistics and Transport (WiLAT) Forum in South East Asia.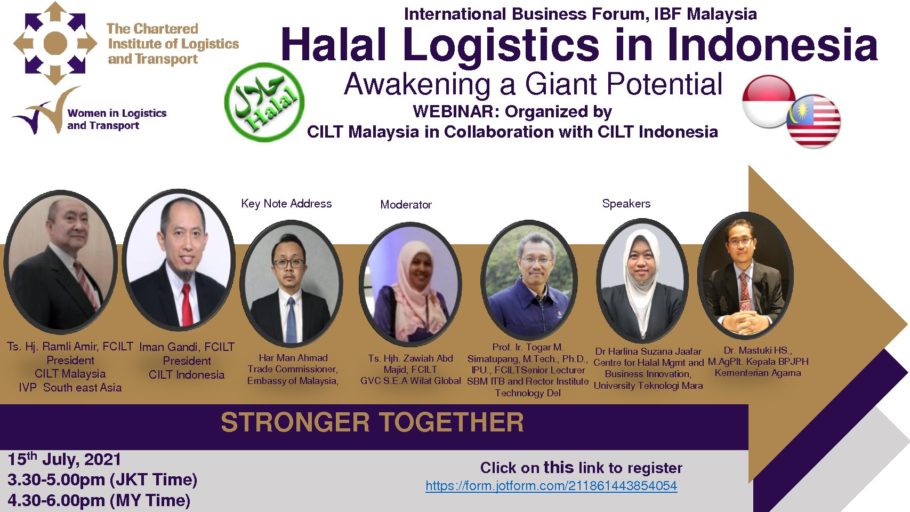 Experts in Halal Logistics will explain and discuss the unique requirements in managing halal logistics activities to support halal supply chains. Also to be discussed is the huge potential of 'Halal' globally with a focus on the potential in Indonesia.
The Moderator will be Ts. Hjh. Zawiah Abd Majid, FCILT, Global Vice Chairperson WilAT South East Asia, with an opening speech from Iman Gandi, FCILT, President of CILT Indonesia, and closing remarks from Ts. Haji Ramli Amir, FCILT, International Vice Chairperson for CILT in South East Asia and President of CILT Malaysia.
The keynote address will be delivered by Har Man Ahmad, Trade Commissioner, Embassy of Malaysia.
Guest Speakers are:
Prof. Ir. Togar M. Simatupang, M.Tech., Ph.D., IPU., FCILT Senior Lecturer SBM ITB and Rector Institute Technology Del
Dr Harlina Suzana Jaafar, CMILT, Centre for Halal Mgmt and Business Innovation, University Teknologi Mara
Dr. Mastuki HS., M.AgPlt. Kepala BPJPH Kementerian Agama
Event Categories: Logistics | Supply Chain