In the third webinar of their Save the World Series, CILT Singapore considers cutting-edge ideas in fleet management and how they help reduce the industry's overall greenhouse gas emissions.  Find out how fleet electrification is taking hold in Asia; how on-demand logistics is bringing efficiencies for shippers and fleets; and how on-board technologies are cutting down distances and time used for deliveries.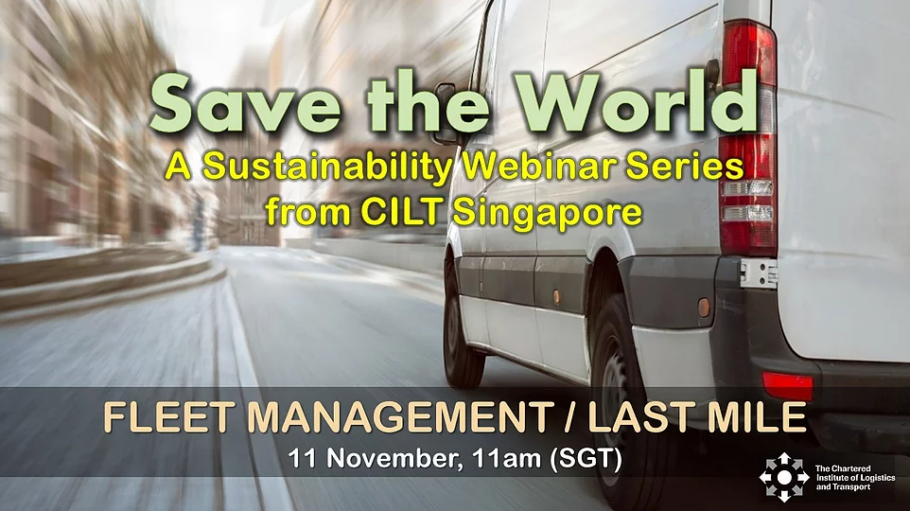 The webinar will consider:
How can our leadership for aggressive electrification and digitisation of fleets contribute to a GREEN Singapore – and a GREEN World?

​

With Singapore's Green Plan 2030, targets for a  "green economy" will no doubt travel on the wheels of our logistical know-how.  What is required for transportation managers moving into the mid-2020s to ensure that all technological advances can be brought together to reduce overall emissions?

​

Hear from DHL Express on their vehicle electrification journey in Asia Pacific.  How has it developed?  What has it taught them for moving forward?

​

Hear from Haulio on their innovative platform for eliminating costly and carbon emitting empty backhauls.  Can IT platforms for transport services revolutionise Asian transportation?

​

Hear from SWAT Mobility, managing fleets with a next-generation transport management system can reduce dead miles and fuel consumption, thereby reducing carbon emissions.
The session will be moderated by Tim Foote, Founder, Susymbio and panellists will be:
Hassan Raza Leghari, Vice President Ground Operations APEC, DHL Express Singapore
Sebastian Shen, Co-Founder & Chief Product Officer, Haulio
Melanie Tan, Head of Logistics Product, SWAT Mobility
Event Categories: Logistics | Transport | Supply Chain | Sustainability