Please join CILT Singapore for their Green Series webinar on Land Transport Decarbonisation.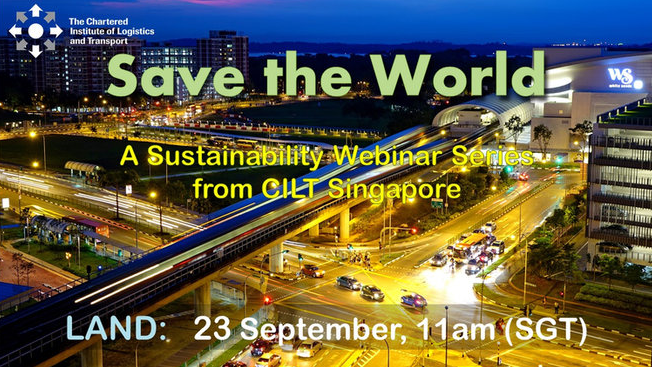 During this session the panelists will consider:
In line with Singapore's vision for all vehicles to run on cleaner energy by 2040, we've observed strong promotion of wider EV adoption.  This includes accelerating the deployment of a nationwide EV charging infrastructure, building EV regulations and standards, and cultivating a robust EV ecosystem in Singapore.  What does it mean for the general public, transport operators and users, and vehicle owners?

​

Building up an EV charging network is a key component of Singapore's strategy to promote electric vehicles.  Currently land transport accounts for 15 per cent of Singapore's domestic carbon emissions, with more than 90 per cent of this coming from the vehicle population.  How do we contribute to driving a GREEN Singapore?
With Singapore's commitment to achieving a clean energy bus fleet by 2040 (including hybrid, electric and hydrogen buses), bus operators have worked in partnership with technology providers to model 60%, 80% and 100% electrification scenarios to transform their existing fleet of buses.  What have been the observations, learnings, challenges and solutions?

​

Hear from Go-Ahead on their extensive experience of operating electric and hybrid buses in the UK.  At Go-Ahead Singapore, they currently operate 7 electric buses and are trialing solar panels on two of their diesel buses as an initiative to reduce fuel consumption and carbon emissions.
Event Categories: Transport