Transport planning teams, mobility futurists and technology innovators are all contributing to a wave of exciting new concepts which are revolutionizing urban planning and mobility.
Join CILT North America for a voyage into the future as we look deeper into the range of innovations being piloted or planned across cities in North America and the UK from Hyperloops to Autonomous Vehicles.  A panel of leading innovators will discuss the relative merits and adoption of these technologies and implications for our cities in the future.
The third webinar in our Urban Futures Webinar Series: "The Exciting Future of Urban Planning and Mobility" is sponsored by Arup and will be moderated by Andrew Young, Vice Chair of the board of CILTNA.
Speakers include:
Chris Lane – Head of Transport Innovation at Transport for West Midlands Thomas Bamonte – Senior Program Manager for Automated Vehicles at the North Central Texas Council of Governments
Siqi Zhu – Associate Director of Planning & Delivery at Sidewalk Labs
Mary Catherine Snyder – Parking Strategist for the City of Seattle Department of Transportation
Lara Tabet – Senior Engineer and Hyperloop Global Coordinator at Arup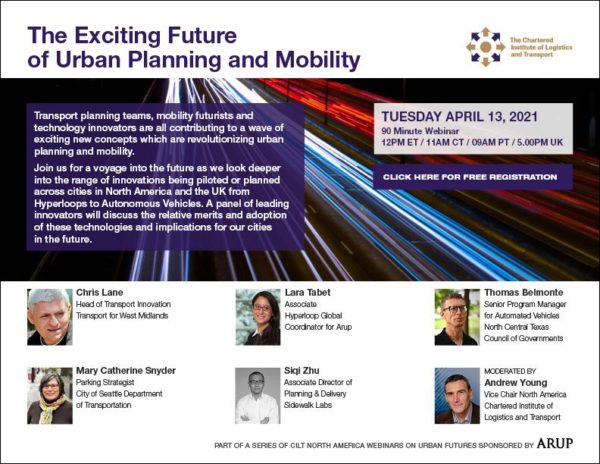 Event Categories: Transport