Ir Zhang Xin-yu Gary, a Young Professional from CILT Hong Kong, has been announced as the Chartered Institute of Logistics and Transport's International Young Achiever of the Year. Gary received his award and a cheque for £2000 from Alan Jones, Trustee and Chairperson of CILT's Awards Committee, during the President's Dinner at this year's International Convention in Wroclaw.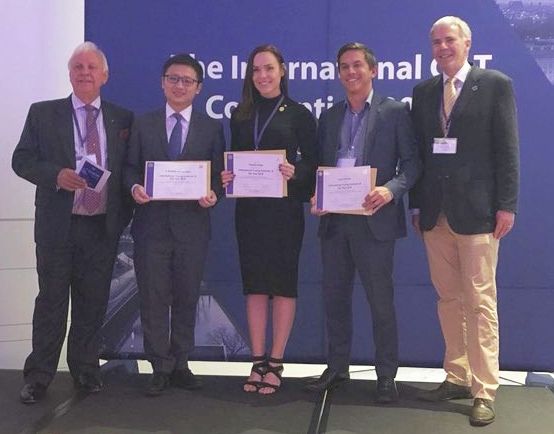 The International Young Achievers Award is made on an annual basis to a young person who can show they have made a significant contribution in their role working in logistics and transport. Candidates are asked to demonstrate exceptional levels of professionalism, leadership and innovation and describe how they would use the bursary award.
Gary was a leading member for the MTR Kwun Tong Line Extension Project (KTE), in which he led a team of over 40 operators, engineers and maintenance technicians tasked with ensuring KTE railway infrastructure, facilities, and systems were up to the highest performance standards for customer service.
The MTR Kwun Tong Line was built in the late 1970s. As one of the busiest railway lines and the backbone of the Hong Kong public transport network, Kwun Tong Line carries over 650,000 passenger trips per day. The extension plan included adding two brand new stations to the line, one of which would become the biggest station on the entire MTR network.
As an operations manager, Gary understood the paramount importance of safeguarding the existing train service while the new extension was being built. His carefully devised plans for construction, testing and commissioning, and his trial operations with all stakeholders achieved a balance between operations reliability and project delivery progress. The Kwun Tong Line Extension was successfully opened on the 23rd of October 2016 as scheduled, with zero safety incidents on existing railway services during the construction period. It achieved a 99.9% punctuality rating after its opening.
Gary intends to use his bursary to investigate the impact of different railway project funding models on service performance and sustainability. He also intends to conduct in-depth studies of how new technology, such as face recognition and big data analysis, can be used to improve railway operations efficiency. He will also travel to Hangzhou City, China, to visit and understand the metro systems and companies, as Hangzhou has railway lines operated by both the government and private operators.
Speaking about Gary's achievements, Chairman of the Awards Committee Alan Jones said, 'As a panel we have been thoroughly impressed by Gary's dedication and accomplishments. To have earned the responsibility for such a task is impressive in itself, and to have completed the work so well must be highly commended. We all agree that Gary is a worthy winner.'
The judges also commended Urszula Kelly of CILT Australia. Urszula is the Founder and Managing Director of successful logistics business IFR8, specializing in long haul transport, with a particular emphasis on the Pilbara (Iron ore region) in Western Australia.
Urszula was a Polish immigrant to Australia in 2012, having previously gained a very good grounding in the industry in the UK from 2007 to 2012. What has been unique about her new business in Australia, established in 2015, is that the 'business engine' centres around a specially related e-freight marketplace booking system. Unlike other booking systems, the driver selection requires the owner-drivers to be accredited to the National Heavy Vehicle Accreditation Scheme (NHVAS) that involves safety, maintenance, mass management and fatigue management. It is a more onerous scheme than the European Operator licensing schemes.
Furthermore, the margins extracted from the driver trips are some 70% lower than those of most large third party logistics organisations. This allows the pool of drivers that book through her UC-Logistics system to be more financially stable than small operators at the mercy of the national sub-contracting third party logistics organisations. Her business has grown rapidly and she has become the face of the small operator in Australia's national press of recent times.
Also commended was Liam Winter of CILT New Zealand, for his dedicated work as a transport and land use planner at Auckland Transport.
Speaking about the award, International President Kevin Byrne said 'I have been very impressed by Gary, Urszula and Liam, and look forward to great things from them in the future.'
The International Young Achiever of the Year 2019 will be presented in Manchester for International Convention 2019. Organised under the theme of Global Solutions to Global Challenges, Industry 4.0, Future Leaders (YPs), and Women in Logistics and Transport (WiLAT) will be at the heart of International Convention 2019. Join us there to celebrate our centenary, and help shape the next 100 years of our Institute and our industry.