CILT Singapore Advisory Panel
Distinguished members of CILT Singapore's Advisory Panel and Board Directors came together for a 3-hour meeting at the PSB Academy on 21 July, 2023. They met to review the Institute's current strategies and programmes, as well as plans and strategic thrusts for the future.
They were delighted to have the presence of CILT Singapore Patron and Acting Minister for Transport, Mr Chee Hong Tat at the meeting.
CILT International's Secretary General Mark Armitage joined the meeting online from London via Zoom and he thanked CILT Singapore:
"Thank-you all too for the continued excellent work that CILT Singapore are carrying out – it is incredibly valuable and very much appreciated by us."
CILT Singapore and PSB Academy sign Memorandum of Understanding (MOU)
Preceding the Advisory Panel Meeting, CILT Singapore and PSB Academy signed a Memorandum Of Understanding to further strengthen their existing collaborations, going beyond the current joint efforts in the Diploma in Global Supply Chain Management programme.
The MOU was signed by CILT Singapore Honorary Secretary Ivan Neo and PSB Academy SVP Vincent Chong and the ceremony was witnessed by CILT Singapore Patron, Minister Chee Hong Tat (standing, centre), with CILT Singapore Chairman, Karmjit Singh and PSB Academy CEO, Derrick Chang (standing, left and right respectively).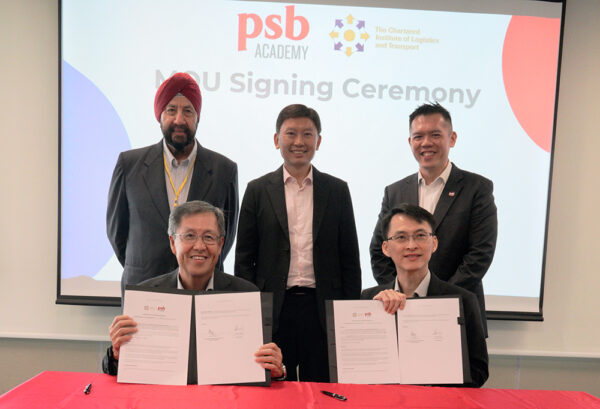 Advisory Panel members, CILT Singapore Patron and the Board of Directors at the Advisory Panel Meeting.