Sonia Man-yee Cheng, a Young Professional from Hong Kong, has been announced as the Chartered Institute of Logistics and Transport's International Young Achiever of the Year. Sonia received her award and a cheque for £2000 from Bernard Auton, Trustee and Chairperson of CILT's Awards Committee, during the President's Dinner at this year's International Convention in Macao.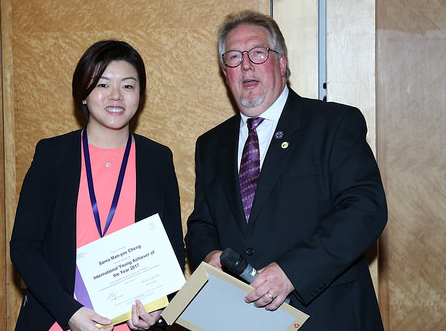 The International Young Achievers Award is made on an annual basis to a young person who can show they have made a significant contribution in their role working in logistics and / or transport. Candidates are asked to demonstrate exceptional levels of professionalism, leadership and innovation and describe how they would use the bursary award.
Sonia established systems and technology at Chung Shing Taxi Limited which over 6 years resulted in a 300% increase in productivity. As Executive Director she launched SynCab, a new fleet of taxis using MPV vehicles to meet specific community needs and supported the initiative with a commitment to quality customer service, high levels of driver support and a schools outreach programme. As a result SynCab accumulated 50,000 loyal and active passengers in just two years of operation, and the fleet at Chung Shing Taxi Limited has now grown from 200 to 800 vehicles. Bernard Auton said:
Sonia's effort set a new standard for transport service and specifically the taxi industry in Hong Kong. Improving customer service captured customer loyalty, loyal customers made business more predictable, predictable business guaranteed incomes for drivers, who in turn provided better service.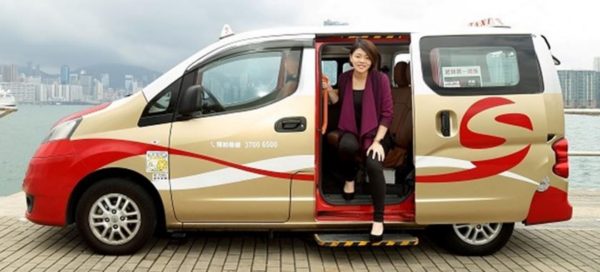 Sonia will use her bursary to run focus groups with key stakeholders to help develop and implement effective initiatives for taking Hong Kong's taxi and public transport services to a new level.  The award will also fund a competition challenging business students to find further ways to increase the professional status of taxi drivers and maintain their service performance.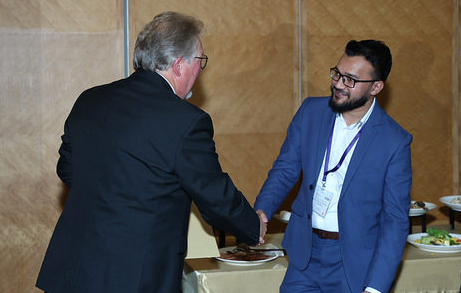 The judges also commended Muhammad Refayet Chowdhury from CILT in Bangladesh.  As Co-Founder and MD of Weaver Innovations, Muhammad has led his team in developing a Digital Voice Alert System to reduce deaths at unprotected and manually operated level crossings in Bangladesh. Muhammad says his company is
Saving lives by building a culture of "waiting" at crossings, through an accurate and consistent use of voice alerts.
"Digital Voice Alert System for Level Crossing" is an automated alert solution with a multi-layer sensing and data transmission system. The alert consists of a vocal warning, an LED scroll bar and a red flash light. Local languages are used in parallel with written language to increase the effectiveness of the alerts.
The Chartered Institute of Logistics and Transport congratulates all the finalists on their impressive submissions:
Jenna Hood from CILT in Australia facilitated a Young Professionals group within Queensland Rail.
Jesaya Mwadingi from CILT in Namibia developed a low-tech but difficult to replicate method for easily identifying registered taxis to make journeys safer.
Virginia Christians from CILT in New Zealand measured the economic, social and environmental benefits of adding value to commodities to help justify the rail investment needed to ship them.
Cyprian Moses from CILT in Tanzania helped to improve the private hire sector.
The International Young Achiever of the Year 2018 will be presented at International Convention in Wroclaw,  Poland