Supply chains are supposed to operate in the background. For many the user experience consists entirely of the click of a mouse and a knock at the door. Few if any shoppers know or care precisely how the goods in the supermarket came to be there. However, for Andy Page, co-creator of Business on the Move, there is an area of logistics and transport that is suffering because of this lack of awareness: recruitment.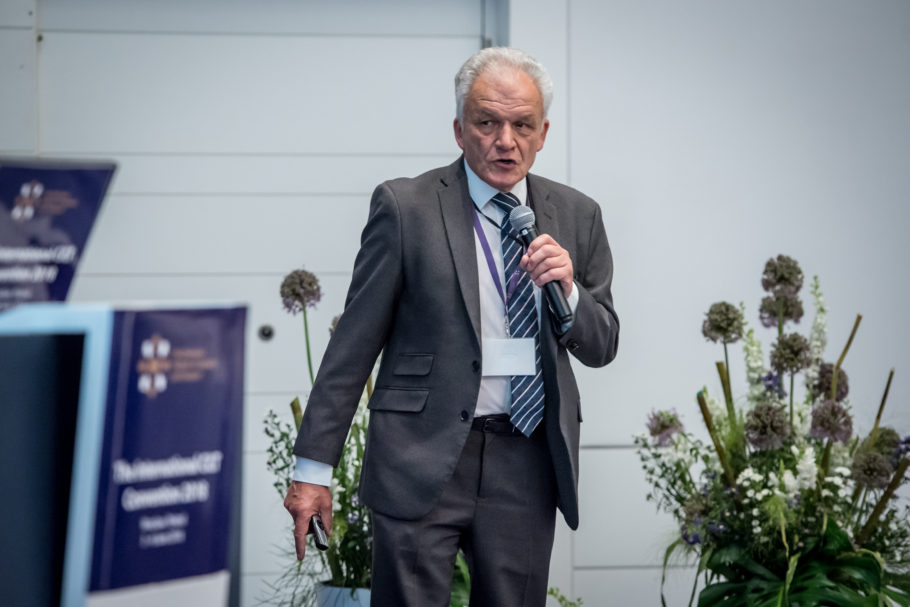 The story of Business on the Move begins with Andy's career as a Business Studies teacher, and the good fortune of being placed in a forward-thinking school for his teaching practice. 'The first week I was doing my teaching practice in 1973, I can remember a trade unionist coming in to the classroom. Now, I naively thought then that involving business big time in teaching was natural, just like a teacher would use blackboard and chalk…I thought bringing real business people in to talk about real business issues and run activities with pupils was normal, and it was far from normal. I just didn't realise how lucky I was…to be in a school that was a forerunner of these sorts of things.'
Andy is an engaging speaker, with a teacher's habit of checking he is understood before moving on, something of a pleasure for someone taking notes. We discuss his career in education, including his time as an advisory teacher, 'spreading the gospel' of bringing business into classrooms.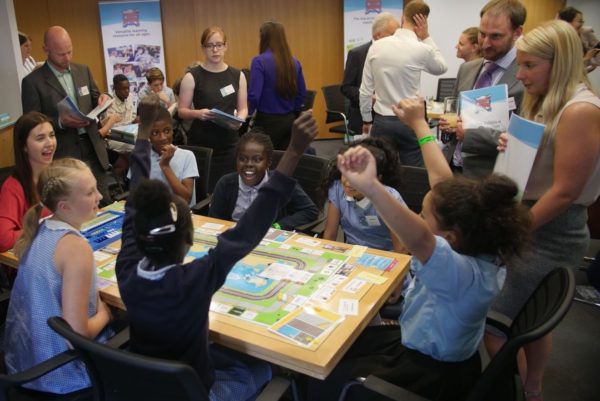 In particular, Andy focuses in on the importance of active learning, 'learning by doing', and how after retirement he began to think about ways of creating a tool to support this method of teaching. 'It became a natural culmination to try and capture some active learning that somehow embraced all I'd been trying to do in terms of enthusing young people about the world of business. Supply chains were a pretty obvious context because a) I'd used the context in my teaching anyhow, and b) because of the efficiency of supply chains and therefore their invisibility. They're so good at what they do that most young people don't even realise they exist.'
The consequences of this lack of visibility would become more apparent during a research trip taken by Andy and co-creator Pat Smedley to logistics exhibition Multimodal in 2011. 'That's where we started our research and found out that most people seem to 'fall into logistics'. It reinforced the idea that we were in the right area…as there seemed to be an industrial need to raise the profile (of logistics) due to the accidental way people were joining the sector.'
The implications of this were immediately clear to Andy and Pat. 'It wasn't just a question of business relevance, citizenship or economic literacy, financial education; it was also an example of a career opportunity, which we didn't appreciate at that time was so diverse, and so potentially lucrative…this really reinforced the idea that this was the area to create a business game in.'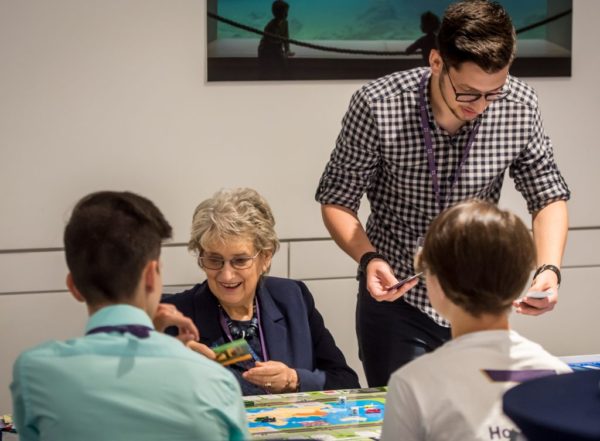 Multimodal also allowed Andy and Pat to get in touch with industry insiders, which in turn helped them reach out to the wider logistics and business community, including members of the UKWA (UK Warehousing Association), Derek Potter of Potter's Logistics, and then CEO of CILT UK Steve Agg. 'It all sort of came together after Multimodal. We met one or two key people…Essentially between them they put on an event for us and invited trade press and trade bodies such as CILT to our presentation…and that was it then. Steve Agg was there and thought it was brilliant. Steve was an absolute brick for us, an absolutely fantastic supporter of our first edition. It was through people like Steve, and the other trade bodies such as the UKWA, that we then had doors opened for us, and people became receptive to us creating a game that featured businesses as themselves.'
The result was the first edition of Business on the Move, sponsored by and featuring 50 real world logistics organisations from across the sector, including CILT. For Andy, having the game feature real businesses and trade bodies was important. 'We wanted it to be real. The more real it is, the more adult it is, then the more powerful it is, the more motivating it is, and the more likely they are to learn.'
The philosophy of setting the game in the real world also extends to the language used. 'We use words like assets and balance sheets naturally in the game. We don't define them formally…just keep it simple and the kids absorb it and use the words themselves. If someone isn't quite sure we explain, but essentially they see it being used and get the hang of it…That's one of the great ways of learning, incidentally. Not accidentally, incidentally.'
By embracing, rather than shying away from business terminology, Andy believes the game provides a powerful platform for interactive learning. 'One of the reasons I developed this game is I was frustrated trying to teach cash flow – how on earth can you be very asset rich, and yet have cash flow problems? It doesn't seem to make sense. But that comes through in this game. Because kids see how you can have loads of assets, but can't afford to pay your operating costs.'
We moves on to discuss the basics of the game. 'Essentially, there's a maximum of four logistics business. That doesn't mean only four people can play as you can have pairs running these businesses…and a banker, so that's nine people around a table…We find people enjoy being the banker because you're involved in every turn…Each of the teams has its own planes, its own ships, its own trains and its own trucks. So it's a multimodal business…At its most simple, it's a race. Deliver four orders first…Deliver them from one side of the world to the other, using the planes trains, trucks and ships in any combination you want…There are Air and Sea, and Road and Rail turns. So I might do an Air and Sea turn, and another Air and Sea turn, then a Road and Rail turn.'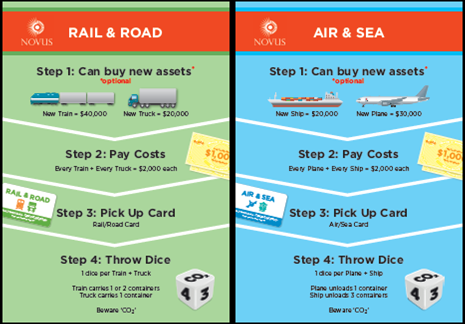 Turns themselves are fairly straightforward. Importantly, like the teams, game concepts mirror real-world business. 'When it's your turn, there are four steps. Step four, not step one is throw the dice. The three steps before it involve you making business decisions. In most games you throw the dice and then things happen. In this one you work as a businessman or businesswoman, and then you throw your dice and move your transport…That's one of the things we wanted to do in this game, to make sure key business truths surfaced during play.'
Perhaps unusually for a board game, there are multiple ways of winning, and the possibility of more than one winner. 'There are all sorts of ways of measuring performance in real life…the most efficient, the most profitable, the one that looks after the environment the most…and so we say sometimes it's not just the quickest, it can be the most profitable. You can have two winners at the end of the game…so we try to introduce even to 11-year-olds that the concept of winning or being successful can be measured in different ways.'
As well as being an enjoyable game, Business on the Move functions as what Andy calls a platform for learning. 'Pat came up with that phrase. Not only does that mean it relates to the national curriculum – we've got leaflets for teachers showing how it links in – we also invited all our sponsors to write an activity with us, that can be used by schools after they'd played the game…It connects the game board to the reality of their business.'
Andy and Pat created the game through a Community Interest Company, a model introduced by the United Kingdom government in 2005 designed for social enterprises that want to use their profits and assets for the public good. Neither Andy nor Pat draws a salary, and all profits are invested in the community or reinvested in the business.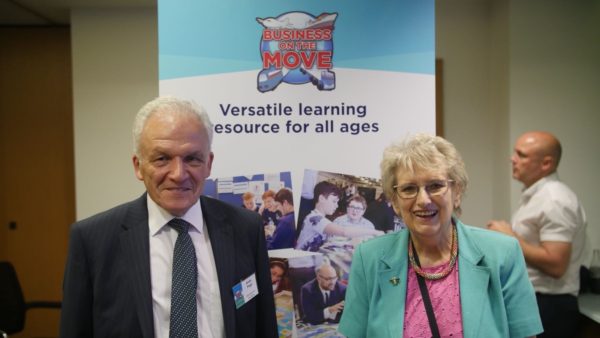 The distribution of the first edition was built around allocating production to schools of the sponsors' choosing. 'Sponsors paid us money to be featured in the game. In return, they shared two-thirds of the production. The notion was to give away two thirds of the 2,800 games in the first run away free to schools…leaving us a third to sell and re-invest in developing a new version.'
In addition to an allocation of games, Andy and Pat also ran workshops for sponsors on how to play the game, and how to use it as a platform for learning. 'CILT through Lynn Mentiply did it differently. They said 'Well we definitely want to go into schools…we'll use your time Andy to train our regional officers…and they can go out to the schools. We didn't go into schools, and Lynn and her team did the work later. It's a fantastic sort-of cascade model.'
One notable feature of the success of the first edition was the surprising number of overseas orders – Andy estimates almost half of the production run reserved for sales was purchased from outside the UK. In response to this, the second edition of Business on the Move is called the Global Edition, and features East-West trade and investment in skills.
Like the first edition, the Global Edition uses the 48 real-world sponsors in the game, including CILT, but this time Andy and Pat are attempting to open up availability of the game. 'The business model for the new game is slightly different. We're giving away about 750 games this time, instead of 2000, and we're using the bulk of the sponsorship to subsidise the selling price.'
In the course of writing up this interview, I contacted Jon Harris, CILT International Professional Development Co-ordinator, to discuss Business on the Move. Calling it a 'wonderful, and very much needed tool' Jon explained CILT's plans to work with Business on the Move going forward. 'Not only are we sponsors, but we are very keen to advocate use of the game globally. We will be encouraging all our approved training providers to have the game as part of their accreditation, and to use the resource at all levels in training.'
CILT are proud sponsors of the UK and Global Editions of Business on the Move, available online through the Business on the Move web shop.