Dr Nurlan Igembayev is a busy man. The first President of CILT Kazakhstan speaks clearly over the phone; his lightly accented English is excellent. We begin by discussing his career in Logistics and Transport and he describes a childhood in Predgorni village in the east of Kazakhstan. Growing up so near the city of Ayarguz, a main railway hub of the region, Nurlan can remember watching the flow of traffic to and from Ayarguz, "As a child I saw our goods transferred by rail and was always excited about that".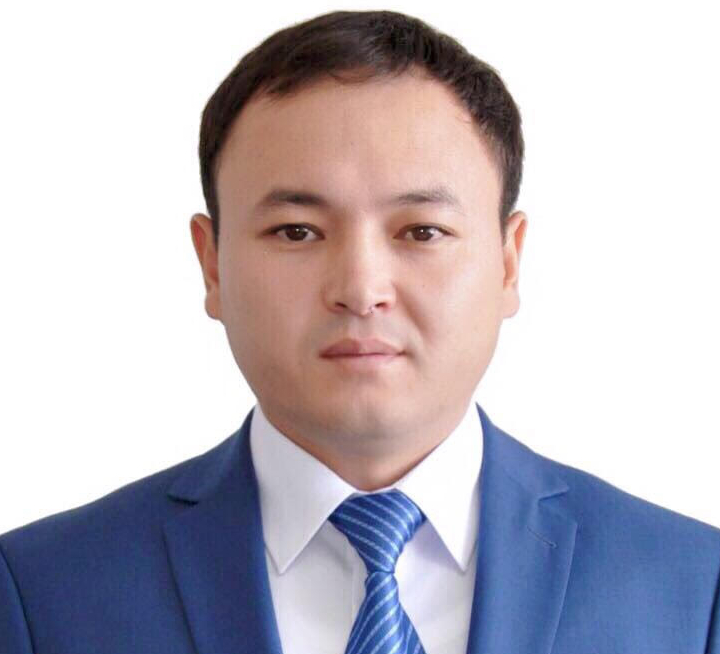 Those early experiences led to his decision after graduating high school to become a railway engineer. "I chose the Kazakh Academy of Transport and Communication because it is the leading transport and logistics academy in Kazakhstan". Nurlan was awarded a full scholarship on entry, graduating in 2007 with a Bachelor's Degree in Railway Engineering. "After graduation I was offered a job as a teaching assistant at the academy. There I began my career in the transportation sector, as a teaching assistant"
A year or so later Nurlan journeyed to Russia to study for a PhD at the Moscow State University of Railway Engineering. There Nurlan's interest in container transport led to a dissertation on the interaction between container trains and platforms. With the construction of the New Eurasian Land Bridge requiring new and better solutions for moving cargo across differing rail gauges at the China – Kazakhstan Border, and again closer to Europe, this was a prescient choice.
Time in Moscow was not spent purely on the theoretical, "During my PhD studies I was always working…at that time I was working as an engineer. We did a lot of research and scientific works, including the high speed train between Moscow and St Petersburg. That was the first high speed train in Russia." He speaks with pride of being involved in this accomplishment. "For some time now I have been very interested in High Speed Trains because I was involved."
After receiving his PhD, Nurlan continued working in Moscow for a time, both as an engineer and a manager. Then in 2012 he moved the United States and joined Chicago Carriage as a Logistics Manager. In 2013 he began studying for a Master's Degree in Business Administration at Aurora University, Illinois. Receiving his MBA in 2015, Nurlan returned to Kazakhstan, becoming Dean of the Faculty of Logistics and Management at the Kazakh Academy of Transport and Communication.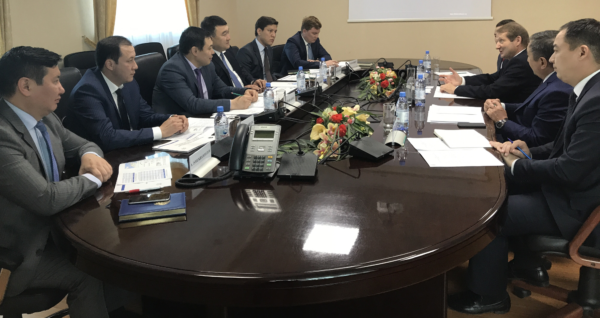 At the Academy Nurlan continues to maintain a balance between the theoretical and practical application of his knowledge. "In the last two and a half years whilst working as an Associate Professor…we've had several projects with Chinese companies. First project we set a new container terminal in the Port of Lianyungang. There we did technical feasibility studies and operations management works." Lianyungang is a prefecture level city in eastern China and a vital container port being both the eastern terminus of the Longhai railway that connects central China, and the eastern terminus of the New Eurasian Land Bridge. Lianyungang is a key part of the One Belt One Road (OBOR) strategy, the Chinese led attempt to rebuild the historic silk route as a modern logistics network linking the East and the West.
The OBOR is also a major factor in the development of the second project Nurlan describes. 'Khorgos – Eastern Gateway' is at the other end of the Chinese section of the Land Bridge, on the Kazakh border. Designated a Special Economic Zone, Khorgos is described in a press release as being "created to enhance the export-transit potential of Kazakhstan in the Eurasian region, the development of competencies in the field of global  logistics, and the attraction of foreign investment." In addition to feasibility studies for the dry port, Nurlan worked on the construction of the new railway line linking Altynkol station near the Khorgos site with the city of Almaty.
Asked about his current interests within the industry, Nurlan returns to the subject of his dissertation. "Now I am very interested again in moving containers…and increasing in my country container mode transport," he says, possibly with the words 'Nurly Zhol' in the front of his mind. 'Nurly Zhol' is Kazakh President Nursultan Nazarbayev's $9 billion domestic economic stimulus plan to develop and modernize roads, railways, ports, IT infrastructure, education and civil services in the Republic. At the heart of this endeavour is the Kazakh national logistics company, National Company Kazakhstan Temir Zholy (NCKTZ) and the refinement of the New Eurasian Land Bridge. "We see ourselves as the bridge between Europe and China." This means many more containers flowing east and west across Kazakh rail lines, and the need for more efficient interactions between stations and locomotives.
He moves on to talk about NCKTZ. Kazakhstan Temir Zholy is an impressive enterprise. President Nazarbayev ordered the already nationalised logistics network to be centralised in one organisation. If it's being moved through Kazakhstan, it's being moved by NCKTZ. The Academy and NCKTZ also have close links. In order to meet the human resource challenge created by the massive infrastructure investments of Nurly Zhol, NCKTZ began working closely with KazATC. This challenge is also what led Nurlan via a Google search, to the Chartered Institute of Logistics and Transport. "We have built for the last ten years a great, great infrastructure in my country…but all this needs highly qualified human resources in logistics and transport…because of this we wanted to create CILT Kazakhstan."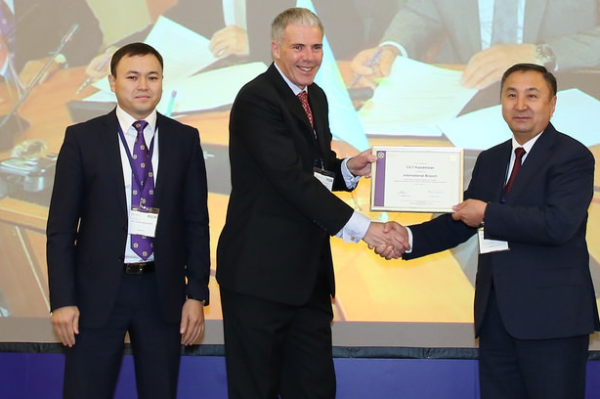 CILT Kazakhstan is the 34th branch of the Institute, inaugurated at the 2017 CILT International Convention in Macao with Nurlan as the first President. He is optimistic about the future, "I think CILT Kazakhstan is going to be very successful because in my country logistics and transport is becoming the first choice profession for young people". This focus on youth has been met with approval by CILT International President Kevin Byrne, whose mission statement upon taking office highlighted the value of training tomorrow's professionals. "As someone who believes strongly in the value of education, I am very impressed by CILT Kazakhstan and their direction of travel. Nurturing talent has been a core value of CILT since its inception, and I am pleased to see these ideals embodied by the CILT Kazakhstan team."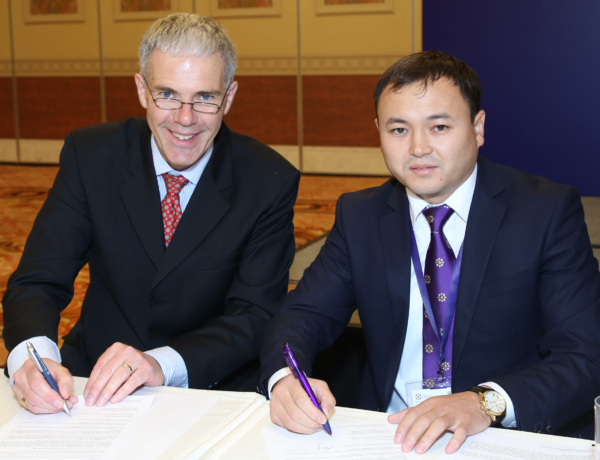 Nurlan also points to the Kazakh government's continued support of the industry, and the Academy's excellent position to take advantage of current and future opportunities. "We have everything, highly qualified trainers, excellent training facilities and laboratories… excellent relations with foreign national companies through consultancy work …and access to a large internal market through NCKTZ." He is not exaggerating. The current employment roll at NCKTZ and its subsidiaries is approximately 136,000.
In the short term however he advocates a slow and steady approach. "First of all we want to focus on education and training…then we will focus on increasing membership. We need to first deliver the high quality education and build awareness of the value of CILT qualifications." This doesn't mean the President himself has been taking things slow. At conference he took the chance to talk to members of many branches about the possibility of travelling to Kazakhstan to spend a few weeks as an associate professor or trainer. "During our training we will involve all our resources…and to keep it high quality we will always be inviting international trainers."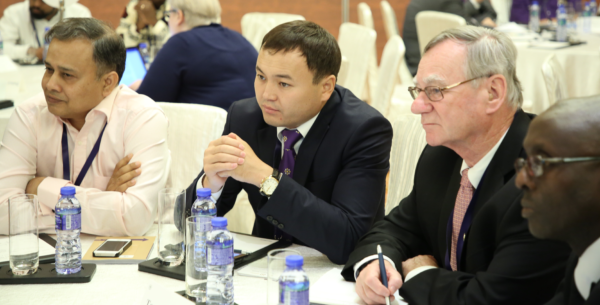 The final part of our conversation is about the possibility of CILT International Convention in Kazakhstan. "Actually I am very excited about convention…we will support Poland in organising Convention 2018 in Wroclaw…and in 2019 it will be in the UK for the 100 year Anniversary…In 2020 I really hope to hold convention in Kazakhstan…I see great support from government and I see great support from companies."
Almost every metric is in Kazakhstan's favour; strategically well positioned, with major investment in infrastructure and a government keen to maintain a climate conducive to foreign investment. The economic progress made since Independence in 1991 is nothing short of remarkable, and the short to medium term guarantee of prosperity provided by a wealth of natural resources is backed by the long term aim of transition to a knowledge economy, with the logistics and transport industry at its heart. But most impressive of all are the Kazakh people themselves; hardworking, dedicated, and united by a vision of a better future. As Secretary General Keith Newton puts it, "We have been very impressed with Nurlan and the team at CILT Kazakhstan. We share the same ideals, and look forward to a strong and prosperous future together."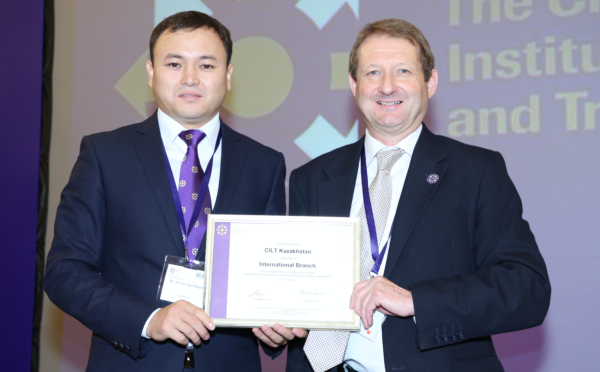 Read more about the plans for developing CILT Kazakhstan here.