CILT International President Sir Peter Hendy is seeking nominations for the 2019 International Young Achievers Award.
The Award is made each year to a young professional who has made a significant contribution in their role working in logistics and transport, such as last year's winner Gary Zhang.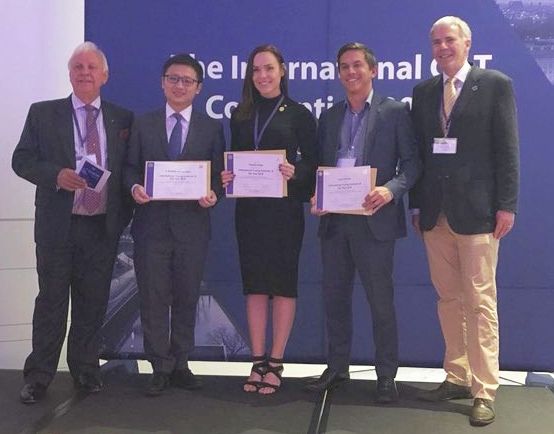 Gary was a leading member for the MTR Kwun Tong Line Extension Project (KTE), in which he led a team of over 40 operators, engineers and maintenance technicians tasked with ensuring KTE railway infrastructure, facilities, and systems were up to the highest performance standards for customer service.
The MTR Kwun Tong Line was built in the late 1970s. As one of the busiest railway lines and the backbone of the Hong Kong public transport network, Kwun Tong Line carries over 650,000 passenger trips per day. The extension plan included adding two brand new stations to the line, one of which would become the biggest station on the entire MTR network.
The judges also commended Urszula Kelly of CILT Australia. Urszula is the Founder and Managing Director of successful logistics business IFR8, specializing in long haul transport, with a particular emphasis on the Pilbara (Iron ore region) in Western Australia.
The International Young Achievers Award is made on an annual basis to a young person who can show they have made a significant contribution in their role working in logistics and transport. Candidates are asked to demonstrate exceptional levels of professionalism, leadership and innovation and describe how they would use the bursary award.
Nominees must be a member of CILT, under 35 years old on January 1st 2018 and endorsed by their local branch or territory. Repeat nominees are allowed, but their nomination cannot describe a previously submitted project. To find out more and begin the nomination process, please contact your local CILT branch. The closing date for nominations is Friday 10th May 2019.
Entries will be reviewed by the CILT Awards Committee, and the award presented during the President's Dinner at CILT International Centenary Convention in Manchester this June. The winner will receive a bursary of £2,000 to undertake further research and travel on a transport or logistics project.
The International Young Achiever of the Year Award will be presented on Tuesday 18th June 2019 during the President's Dinner at the CILT International Convention in Manchester. Join us there to celebrate our centenary, and help shape the next 100 years of our Institute and our industry.