Dr Dorothy Chan began her inspirational speech at this year's CILT International Convention by thanking Radzek Malek, President CILT Malaysia and Haji Ramli, Chairman of the Convention Organising Committee, for organising this important function. Dorothy continued, 'We have an overwhelming number of delegates attending this event and this speaks for all the efforts made by the organising committee.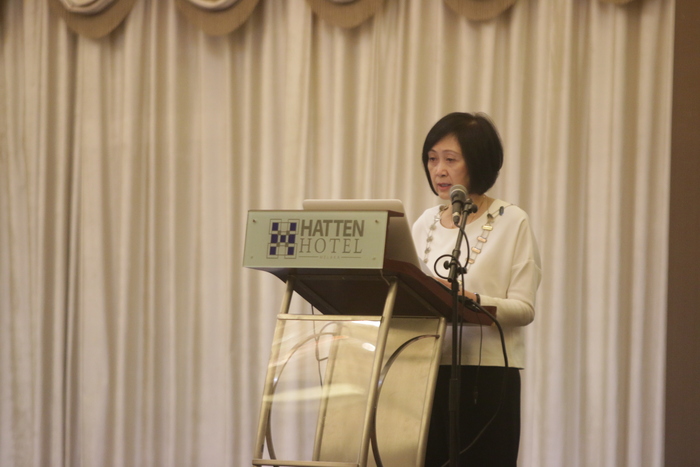 Dorothy then recalled last year's successful convention in Sri Lanka and recognised the three main pillars of CILT International's overall approach: governance, growth and capability.  She acknowledged that CILT International have been following up the commitments from last year's convention and reported that there has been progress in all areas.
Dorothy told delegates of developments in particular territories and branches, including a project board in India aiming to grow the Institute in six cities as well as increased developments in UAE, which include a new board and a significant growth membership interest.  Dorothy singled out North America as a strategic growth area and discussed the opportunity for membership and enhanced opportunities in a vast territory.
Dorothy congratulated Nigeria in becoming the 12th Territorial Organisation and also welcomed new branch Macao commenting on the proximity of Macao to Hong Kong and the opportunities for sharing experience and expertise with neighbours.  She also commented on the significant economic growth in China and how this has created a strong demand for professional expertise in supply chain, traffic and transport management.  Dorothy stated that 'CILT China is actively preparing for advancement to Territorial Status and we are working to achieve this later this year.'
The success of the CILT re-brand last year was commented on by Dorothy stating,  'A logo is a promise and this new identity is giving us the momentum for growth. Our new logo identity portrays an image of global leadership, professionalism, diversity, energy and unity which signifies our spirit and mission of growing strong together.'
Dorothy also touched on the developments currently being made in a variety of special interest areas within CILT including Young Professionals and WiLAT. She discussed the embodiment of the Young Professionals, WiLAT and Alumni as an important part of CILT's growth strategy and informed delegates of the discussions and team building activities going ahead at the convention and encouraged delegates to get involved.
Dorothy continued her speech with a look to the future.  She stated 'I am convinced that supply chain and transport will become increasingly important for the following reasons: globalisation and personalisation; innovation and education and professional training.'  Dorothy expanded with 'our members must feel proud of our achievements and yet we can do more.  I would encourage our Territories and Branches around the world to consider yourself as a vital part of your country's development and an important partner in all business endeavours.'
Dorothy told delegates of a significant growth in membership worldwide, Dorothy claims 'Our membership worldwide has grown to 32,000 and significant increases in membership is noted in India, Nigeria, Ireland, Pakistan, Sri Lanka, Zambia and Bangladesh.'  She notes that rarely do other Institutes have the same global context as CILT and hopes that delegates attending this year's Convention made the most of the valuable opportunity to meet face-to-face.'
Dorothy ended her Presidential Speech by acknowledging the heritage and global influence of CILT. She states 'We have brilliant people who have made an explicit choice to pursue their chosen careers here, our young professionals (both male and female) will be our leaders for the future.  They have the aspirations and inspirations to do well and here we have the collective wisdom and vision.'  Dorothy also thanked her CILT HK team and her central team, Keith, Jon and Ceri.  She ended her speech highlighting the great opportunities at convention there are to meet like-minded professionals and to ensure that all delegates made the most of this unique opportunity and event.
View the presentation below and for a copy of Dr Dorothy Chan's Presidential Speech in full click here.