The 4th China International Logistics Development Conference, organised by Xuzhou Municipal Government in conjunction with CILT China and CILT International, took place in Xuzhou City between the 1st to the 2nd of November. Xuzhou, an historic city located in Jiangsu Province in Eastern China, is part of the Yangtze River Delta Economics Zone (YRDEZ), a region responsible for 20% of China's GDP. It is a city both of immense culture and heavy industry, and a key node in the transport of goods and labour between China's developing west and developed east. Xuzhou will serve as a super-hub for the One Belt One Road (OBOR) project.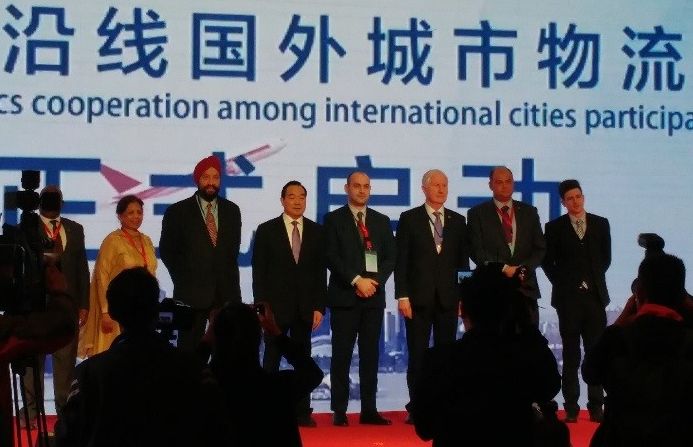 Under the theme of 'Connectivity and Integration, Opening and Sharing', the Conference explored key drivers of change in our industry, including the rise of new technologies and the impact of the One Belt One Road Initiative. The opening ceremony, attended by over 500 delegates including 35 CILT members representing 25 countries, featured keynote speakers including Secretary of the Xuzhou Municipal Committee Zhang Guohua, CILT International President Kevin Byrne and Secretary General Keith Newton, and David Aptsiauri, Georgian Ambassador to China.
After the impressive opening ceremony was a signing ceremony, during which 23 projects representing $19.3 Billion were signed and initiated. The main forum then began, opening with an address by Mayor of Xuzhou Zhou Tiegen highlighting the strengths of his region. Other speakers included Professor Huang Youfang, President of Shanghai Maritime University, and Chung Dong-young, a Member of the South Korean Parliament and the South Korea Land Transportation Committee.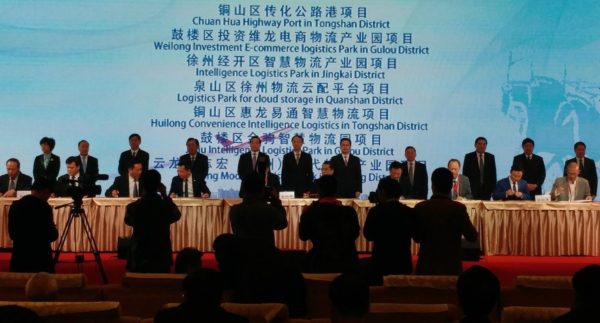 Discussions centred around Xuzhou's geographic and infrastructural strengths, namely its position as the central node of several arterial railways, and its access to a multi-modal transport network comprising road, rail, air, river and pipeline. There was also a focus on the supporting structures including inland customs centres, bulk commodity yards and distribution centres, as well as the fiscal and political support provided by central and regional government in the form of direct funding and investment, subsidies and regulatory leeway, and the Yangtze River Delta Economic Zone.
The afternoon and following days featured activities and presentations, split between several sites, include a Prime Forum, the Business Logistics Centre in Huaihai Economic Zone Summit Forum, a Logistics Integration Development Forum, and a Women in Logistics and Transport (WiLAT) forum. A tour of key regional infrastructure visited the Shun Di River Bulk Commodity Port, capable of holding 100 million tons of material such as coal and gravel, and Wanzhai Port, an integrated inland river port with customs facilities and a bonded logistics park for export, located on a river canal.
Speaking about the Conference, Jackie Li of CILT NA said it was an excellent and informative experience.
'The speed of development in wealth and infrastructure in China is truly unprecedented. With Beijing's political might behind the OBOR initiative, China's logistics infrastructure and network will undoubtedly see a massive influx of funding and favourable policy. This represents an enormous opportunity for individuals and companies working in and with China.'
CILT International President Kevin Byrne was also impressed by the Conference.
'I was deeply honoured to be asked to speak at the opening ceremony, adding my voice to a roster of distinguished industry specialists. I congratulate Professor Derong, the team at CILT China and the people of Xuzhou on their success. I look forward to next year's event in Changsha.'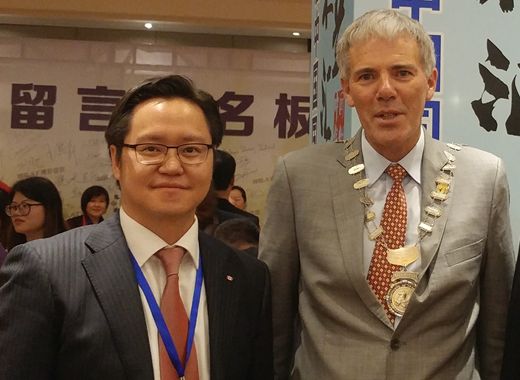 The 5th China International Logistics Development Conference will take place in 2018 in Changsha, Hunan Province.